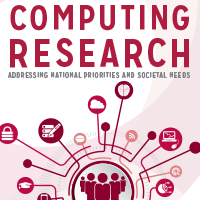 The speaker and poster videos from the 2017 Computing Research Symposium on Addressing National Priorities and Societal Needs are now available! 
The Computing Community Consortium (CCC) has hosted dozens of research visioning workshops to imagine, discuss, and debate the future of computing and its role in addressing societal needs. The second CCC Computing Research Symposium brought these topics into a program designed to illuminate current and future trends in computing and the potential for computing to address national challenges. See the videos from the Symposium here.
Poster presenters at the Symposium included early career faculty members, post-docs, and graduate students from many fields of computer science. There were a total of 47 poster presentations during the poster reception. The videos are from the poster presenters who chose to record a short video clip of their presentation. To see the full list of poster presenters at the Symposium and their abstracts, please see the CCC Symposium Poster Book.
We will be blogging about the individual sessions from the Symposium in future blogs. Later this week, look for our blog on the Intelligent Infrastructures Session!