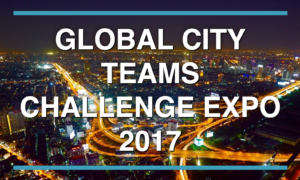 The 2017 Global City Teams Challenge (GCTC) Expo on August 28-29 in Washington, DC will bring together over 100 cities and communities around the world in partnership with more than 300 companies, universities, non-profits, and federal government agencies to share and exhibit their smart city projects and the impacts to their communities.
See the agenda here.
There will be over 200 speakers at the Expo, including the industry speakers below:
Wilfred Pinfold, CEO, Urban Systems
Ken Thompson, Deputy Director, Intelligent Water Solutions, CH2M
Steve Wimsatt, Senior Director, Strategic Alliances, Ruckus Wireless
Jennifer Robinson, Director of Local Government Solutions, SAS
Derick Lee, Founder and Chief Architect, PilotCity
Scott Pomeroy, President, Scalable Strategies
Registration is free. To register for the event, please visit this website or email GCTCExpo@energetics.com. Please RSVP with the name, title, affiliation, and email address for all registrants.
For general questions regarding the Global City Teams Challenge and/or Expo, email sokwoo.rhee@nist.gov.