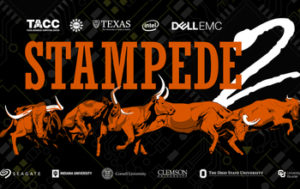 How do we forge a new frontier in advanced computing? With Stampede 2! 
Recently, the National Science Foundation (NSF) funded a new super computer called Stampede 2, which will advance the nation's science and engineering agenda using the latest technology at an unprecedented scale.
Stampede 2 is based at the Texas Advanced Computing Center (TACC) at The University of Texas at Austin, but it will serve tens of thousands of researchers and educators across the U.S.
Building on the success of the initial Stampede system, Stampede 2 is the newest strategic supercomputing resource for the nation's research and education community. It will offer more than twice the overall memory, storage capacity, bandwidth and system performance of the initial Stampede system. Yet Stampede2 will consume only half as much power and occupy just half the physical space of its predecessor.
When Stampede2 is fully operational later this fall, the system will have roughly the processing power of 100,000 desktop computers; this increased speed and power will allow scientists and engineers to tackle larger, more complex problems that were not previously possible.
See the news release from NSF to learn more about Stampede 2 and the large-scale scientific studies that it has already conducted.