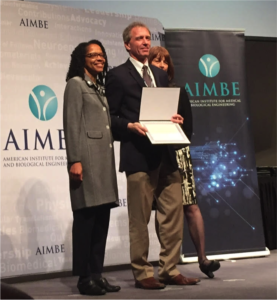 The American Institute for Medical and Biological Engineering (AIMBE) just inducted the 2017 College of Fellows at their 2017 Annual Event at the National Academy of Sciences in Washington, D.C., yesterday. Gregory D. Hager, past Computing Community Consortium (CCC) Chair, professor in the Department of Computer Science at Johns Hopkins, and director of the Malone Center for Engineering in Healthcare, was one of the inductees.
Members of the College of Fellows are considered among the top two percent of the country's medical and biological engineers and include distinguished and accomplished research directors, professors, engineering and medical school chairs, and successful entrepreneurs and innovators.
Dr. Hager was recognized for his development of computationally enhanced imaging and image guidance and for data-driven quantification of human performance with interventional systems.