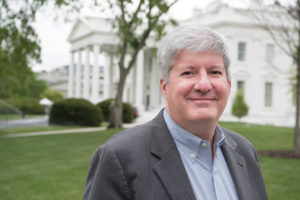 Greg Hager, former Computing Community Consortium (CCC) chair and Mandell Bellmore Professor of Computer Science at The Johns Hopkins University, contributed to this post.
Last week, the CRA Board of Directors announced that Tom Kalil was selected as the 2017 recipient of the CRA Distinguished Service Award for "his long history of leading national initiatives that have had a transformational impact on the computing research community and as an exemplary spokesperson, advocate, and collaborator for the computing research community."
According to Greg Hager, former CCC chair, "Tom has a unique ability to envision and articulate the impact of major science and technology initiatives and, even more importantly, to find mechanisms to bring them into existence. The computing community, in particular, has long benefited from his leadership and vision."
During the Clinton administration, Tom was the National Economic Council's "point person" on a wide range of science, technology and innovation issues, including the National Nanotechnology Initiative, the Next Generation Internet, liberalization of computer export controls, and education technology.
In his most recent role as the Deputy Director for Technology and Innovation for the White House Office of Science and Technology Policy (OSTP), Tom supervised a team of 19 policy entrepreneurs working science, technology and innovation policy initiatives such as grand challenges, incentive prizes, STEM education, the maker movement, high-growth entrepreneurship, Lab-to-Market, space policy, innovation for global development, R&D funding, insights from the social and behavioral science, and national S&T initiatives in areas such as advanced manufacturing, big data, cyber-physical systems, nanotechnology, software-defined networks, and synthetic biology.
While at OSTP, Tom played a role in many of CCC activities such as the National Robotics Initiative (NRI). The original Robotics Roadmap (published by the CCC in 2009) was the basis for the 2011 NRI, which was designed to support fundamental research to accelerate the development and use of robotics technologies in the US, focusing on technologies that work cooperatively with people. An updated version of the Robotics Roadmap was released in November 2016. In addition to supporting and advocating for this initiative, Tom wrote a number of OSTP blogs about the impact of the NRI including Developing the Next Generation of Robotics and The Road to Cutting-Edge Robots.
Tom was also very involved in the BRAIN Initiative, which the CCC participated in by holding a BRAIN workshop in 2014 that helped establish new partnerships between computer scientists and neuroscientists and create breakthrough technologies.
The CCC is delighted that Tom Kalil has received this award. He has contributed immensely to our community in many impactful ways and is a person of immense intelligence, thoughtfulness, and effectiveness. Luckily for our community, he has applied these talents to many high visibility and high-impact initiatives that have helped shape the modern view of computing.