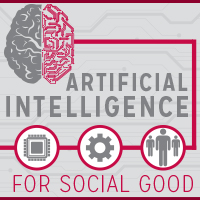 Contributions to this post were made by Greg Hager, Computing Community Consortium (CCC) Past Chair and Professor in the Department of Computer Science at Johns Hopkins University. 
In June, the White House Office of Science and Technology Policy (OSTP) announced a new Request for Information (RFI) on Artificial Intelligence (AI), to solicit feedback on how the United States can best prepare for the future of AI. According to the OSTP Blog, they "received 161 responses from a range of stakeholders, including individuals, academics and researchers, non-profit organizations, and industry." All of the responses are now public and can be found here.
The Computing Community Consoritum's (CCC) submitted a response, which can be found here, after co-sponsoring the Artificial Intelligence for Social Good workshop with OSTP and Association for the Advancement of Artificial Intelligence (AAAI) in June 2016.
See highlights from each workshop in this Medium post.
Please see the CCC's response to learn more about the outcome of AI for Social Good. A more thorough report will be published by the CCC later this fall, and available here. Videos of all workshop talks can be found here. Slides from workshop presenters can be found here.