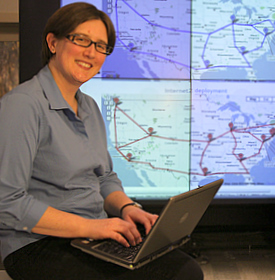 Computing Community Consortium (CCC) Council Member Jennifer Rexford has been named the Association for Computing Machinery (ACM) 2016-2017 Athena Lecturer.
Each year, the Athena Lecturer award celebrates women researchers who have made fundamental contributions to computer science. Rexford is the Gordon Y. S. Wu Professor in Engineering in the Department of Computer Science at Princeton University. She has been cited for innovations that improved the efficiency of the Border Gateway Protocol (BGP) in routing Internet traffic, for laying the groundwork for software-defined networks (SDNs) and for contributions in measuring and engineering IP networks. These contributions greatly enhanced the stability and flow of Internet transmissions, and make data networks easier to design, understand and manage.
From the ACM Press Release:
Rexford's research showed that the local economic incentives that drive operational routing policies lead to a stable global routing system. More recently, Rexford has designed incrementally-deployable extensions to BGP to greatly improve both the security and the scalability of Internet routing.

Rexford also made major advances in laying the foundation for software-defined networking (SDN). A traditional problem in data networking has been the tight coupling of proprietary control software with the underlying network devices, stifling innovation. In her seminal work, "Design and Implementation of a Routing Control Platform," Rexford proposed a way to separate a network's control software from its data functions. Her framework laid the groundwork for today's software-defined networking. More recently, Rexford's collaborations with programming languages researchers created powerful new abstractions for designing new network control applications. SDN enables new degrees of innovation within the network and has revolutionized networking research and industry.
Congratulations, Jen!