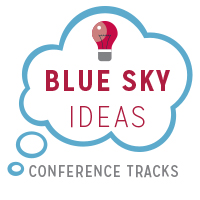 The Computing Community Consortium (CCC) recently sponsored a Blue Sky Ideas Conference Track at the 30th Association for the Advancement of Artificial Intelligence (AAAI) Conference on Artificial Intelligence (AAAI-16), February 12-17, 2016 in Phoenix, Arizona. The purpose of this conference was to promote research in artificial intelligence (AI) and scientific exchange among AI researchers, practitioners, scientists, and engineers in affiliated disciplines.
The goal of this track was to present ideas and visions that can stimulate the research community to pursue new directions, such as new problems, new application domains, or new methodologies.
CCC Chair Greg Hager presented the awards to the three winning papers.
Indefinite Scalability for Living Computation
David H. Ackley (University of New Mexico)
* To watch a video of his blue sky talk, click here. 
Embedding Ethical Principles in Collective Decision Support Systems
Joshua Greene (Harvard University), Francesca Rossi (University of Padova), John Tasioulas (King's College London), Kristen Brent Venable (Tulane University), Brian Williams (Massachusetts Institute of Technology)
Five Dimensions of Reasoning in the Wild
Don Perlis (University of Maryland)
CCC provides travel awards to authors of the winning papers. We encourage you to apply for a Blue Sky Ideas track at your conference!
Requests need only include a brief description of the conference and a proposed list of program committee members for the track. For more information — including guidelines for conference program committees, recommendations for selecting winners, and logistics for issuing CCC-sponsored travel awards to the winners, as well as a sample call for papers for a Blue Sky Ideas track — visit our
website
.