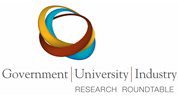 The National Academies' Government-University-Industry Research Roundtable (GUIRR) is hosting a webinar with Dr. Bradford Tousley, Director of the Tactical Technology Office (TTO) of the Defense Advanced Research Projects Agency (DARPA) on Thursday, October 22nd, from 1-2 PM EDT.
The TTO of the DARPA develops system and subsystem level technologies that enable revolutionary improvements to the efficiency and effectiveness of military platforms. Specifically, TTO focuses on Ground Systems, Maritime and Undersea Systems, Air Systems, and Space Systems. As a part of the process, the office is soliciting executive summaries, white papers and proposals for advanced research, development and demonstration of innovative systems for military missions in those focus areas.
The webinar will discuss the office's mission and how to do business with DARPA.
If you are interested in the webinar, head here to get more information and to register.