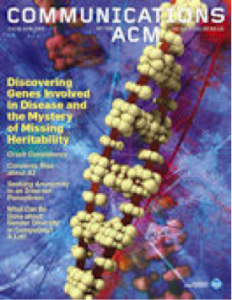 Tom Dietterich and Eric Horvitz, the current and former president of the Association for the Advancement of Artificial Intelligence (AAAI), respectively, have co-authored a CACM Viewpoint on the Rise of Concerns of AI: Reflection and Directions, now openly available in the October issue of CACM. Tom Dietterich is the Distinguished Professor and Director of Intelligent Systems at Oregon State's School of Electrical Engineering and Computer Science and Eric Horvitz is the Distinguished Scientist & Managing Director at Microsoft Research and former CCC Council Member.
Drs. Dietterich and Horvitz reflect about the recent rise of anxieties about AI in public discussions and media. They discuss the realities about progress in AI and carefully elucidate several different categories of risk. They highlight relevant research in AI and other computer-science disciplines including human-computer interaction, verification, and security, and call for more intensive investments on key opportunities for R&D to better understand and address the different risks.
In addition to pursuing scholarly studies, Drs. Dietterich and Horvitz stress the need for computer science professionals to continue to maintain two-way channels for listening to and communicating with the public "…about opportunities, concerns, remedies, and realities of AI."
To learn more, please read the full article here.