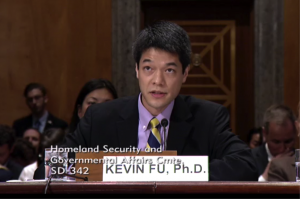 On June 2, our new CCC Council member starting July 1st, Kevin Fu (Associate Professor, Sloan Research Fellow Computer Science and Engineering Electrical Engineering and Computer Science at the University of Michigan) was one of the five witnesses to testify to the U.S. Senate Committee on Homeland Security & Governmental Affairs at a hearing on "The IRS Data Break: Steps to Protect Americans' Personal Information."
Fu recommend the following to the committee:
Encourage research collaboration between cybersecurity experts and social and behavioral science to carry out human subjects experiments that measure the risks and benefits of knowledge-based authentication.
A transcript of Fu's oral testimony is here.  Visuals are here.
A list of all the witnesses and their written testimony is available here.