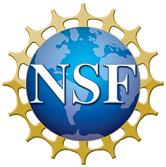 The following is a guest blog post by Alejandro Suarez, AAAS Science and Technology Policy Fellow working in the Computer and Information Science and Engineering Directorate at the National Science Foundation.
Last Friday, the National Science Foundation (NSF) Directorate for Computer and Information Science and Engineering (CISE) announced the Big Data Regional Innovation Hubs program to ignite new partnerships among government, university, and industry around Big Data.
The program continues NSF's leadership in the National Big Data Research and Development Initiative, launched in 2012 to solve some of the Nation's most pressing R&D challenges related to extracting knowledge and insights from large, complex collections of digital data.
This solicitation is the first of a multi-phase process to establish a national network of Big Data regional innovation hubs to ignite new public-private partnerships centered around Big Data. These hubs will consist of a consortium of members that strive to achieve common Big Data goals that would not be possible for the independent members to achieve alone. Each hub will focus on key challenges and opportunities in its region of service. Opportunities could include facilitating partnerships on overarching themes (e.g., privacy, data sharing, data stewardship, etc.), providing shared resources to the community (e.g., tools, infrastructure, testbeds, etc.) and/or coalescing around key topical themes (e.g., energy, transportation, healthcare).
The aim of the first phase is to set up the governance structure of each BD Hub's consortium of members as well as develop approaches to ensure cross-hub collaboration and sustainability over the long term. To facilitate this goal and to foster collaboration among prospective partners within a region, NSF is sponsoring a series of regional, intensive, one-day workshops, called "charrettes". One charrette will be held in each geographic region to convene stakeholders, explore Big Data challenges, and aid in the establishment of that consortium. For more information on these charrettes, see: https://www.usenix.org/conference/bdhubs15. In addition, a HUBzero community portal has been established to facilitate discussion among interested parties within their region or with other stakeholders nationwide.
The next phase will focus on building out various sectors of particular interest to each BD Hub (e.g., transportation, smart cities, health, energy, public safety, and education) so as to advance sector innovation in that region. The final phases will focus on connecting the BD Hubs and their regional sectors into a national Big Data innovation ecosystem.
This program is part of multiple opportunities for interested parties to participate in Big Data hubs. Before preparing a proposal, applicants are strongly encouraged to review the full solicitation and consult with the cognizant NSF program officer, Fen Zhao, to determine appropriateness of fit.
For more information, NSF is hosting an informational webinar this Friday, April 3, 2015 at 1pm ET.  Please note that registration is required by Thursday, April 2 at 11:59pm.