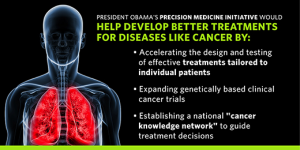 The following is a guest blog post by Beth Mynatt, Computing Community Consortium (CCC) Vice Chair and professor of Interactive Computing and the executive director of Georgia Tech's Institute for People and Technology (IPaT). 
I had the opportunity to attend President Obama's White House announcement of his "Precision Medicine Initiative" last Friday. The president was introduced by Elana Simon, a computer science major at Harvard University, who has conducted cancer research and was diagnosed with a rare form of liver cancer as a teenager.
Obama's $215 million request, included in his fiscal 2016 budget, would go toward research by the National Institutes of Health (NIH), the NIH's National Cancer Institute and the Food and Drug Administration. NIH would receive includes $130 million to create a national database of 1 million volunteer donors who will have their genetic profiles studied. In addition to the NIH funding, the National Cancer Institute would get $70 million to study genetic causes of cancer; $10 million would help the Food and Drug Administration increase its knowledge of individualized therapy to better regulate the field; and $5 million would be devoted to building the computing and privacy components of the genetic-data network.
Attendees listened to Obama describe the need to match medical treatments to genetic profiles akin to matching blood transfusions to blood types. The running metaphor was to eliminate "one size fits all" traditional healthcare treatments with personalized treatments based on precise genetic profiles. "The accidents of our birth should not determine our fate, or our destiny," said Obama.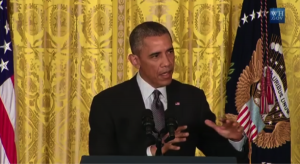 There appears to be bipartisan enthusiasm for this initiative based on the promise to cut healthcare costs by reducing ineffective treatments and spurring growth in "value-based care."
The White House announcement was a well-attended event with the leadership of NIH, Institute of Medicine, Office for the National Coordinator for Health Information Technology, Federal Trade Commission and other agencies present alongside leaders of many pharmaceutical companies. Families of children who have been successful treated with targeted genomic therapies personally vouched for the importance of these medical efforts. The event even had some star power with Kareem Abdul-Jabbar attending as he has been successfully treated for a lethal form of leukemia.
There are obvious opportunities for computing researchers in this initiative from the combined modeling and simulation of genetic information and disease to machine learning approaches that attempt to identify sub-cohorts of patients who share specific characteristics that may be amendable to genetic treatments.
That said, this initiative failed to highlight the potential to also incorporate environmental, behavioral and psychological information in the creation of personalized healthcare interventions. For example, asthma is a disease that plagues close to 26 million Americans, including over 7 million children. While genetic-based discoveries hold the potential for further distinguishing patient cohorts and drug discovery, environmental triggers, medication adherence and the ability and willingness of people to adjust their behavior for positive health outcomes will certainly still significantly influence successful management of asthma. This scenario repeats itself for every chronic disease plaguing our healthcare system (diabetes, heart disease, cancer and so on). While genetic research is unquestionably "sexy" in DC and beyond, our field and our scientific community needs to also embrace that major healthcare advances will require working across many, messier data sets and the creation of medical interventions that also empower patients to improve their health.