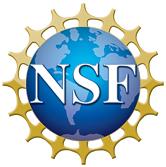 The following announcement is a special contribution from the National Science Foundation.
Dear Colleague:
How scientific research is conducted across all science disciplines is changing. One important direction of change is toward more open science, often driven by projects in which the output is purely digital, i.e., software or data. Scientists and engineers who develop software and generate data for their research spend significant time in the initial development of software or data frameworks, where they focus on the instantiation of a new idea, the widespread use of some infrastructure, or the evaluation of concepts for a new standard. Despite the growing importance of data and software products the effort required for their production is neither recognized nor rewarded. At present there is a lack of well-developed metrics with which to assess the impact and quality of scientific software and data. Unlike generally accepted citation-based metrics for papers, software and data citations are not systematically collected or reported.  NSF seeks to explore new norms and practices in the research community for software and data citation and attribution, so that data producers, software and tool developers, and data curators are credited for their contributions.
The Science of Science and Innovation Policy (SciSIP) program and Software Infrastructure for Sustained Innovation (SI2) program invite collaborative workshop and exploratory research (EAGER) proposals in the following areas:
Citation and attribution:
Metrics of impact:
It is strongly recommended that proposals be collaborative, with investigators from both the social science and cyberinfrastructure communities, including but not limited to: economics, sociology, science of organizations, management science, software infrastructure, data infrastructure, science of team science, science of science and innovation policy, and science, technology, and society.
This is not a new competition or a new program; interested investigators should first discuss their ideas with one of the program directors listed in this letter and upon approval may then submit an EAGER proposal or a proposal for Conferences, Symposia, and Workshops to the Science of Science & Innovation Policy (SciSIP) program via PD 09-7626 or to the Software Infrastructure for Sustained Innovation program via NSF 14-520. Proposals will be accepted through June 10, 2014.
Numerous Dear Colleague Letters and workshops supported by the Directorate for Computer & Information Sciences and Engineering (CISE) and the Directorate for Social, Behavioral, & Economic Sciences (SBE) have drawn attention to significant areas of research where potential citation and attribution problems have been identified, including, but not limited to:
The CISE Division of Advanced Cyberinfrastructure (ACI) and the SBE Division of Social and Economic Sciences (SES) encourage members of their research communities to consider this opportunity, either by participating directly in the submission of proposals, or by responding to invitations to participate in activities that may be funded through this Dear Colleague Letter.
Please refer to the following NSF documents for more information on ACI and SES priorities and interests:
For further information on grant mechanisms, refer to the following documents:
Please contact the following program directors prior to proposal submission and for any questions:
Sincerely,
Joanne Tornow
Acting Assistant Director
Directorate for Social, Behavioral & Economic Sciences
Farnam Jahanian
Assistant Director
Directorate for Computer & Information Science & Engineering