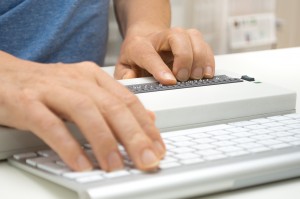 The following is a special contribution to this blog by Limor Fix.  Limor recently retired from Intel, where she was the director of University Collaborative Research (UnCoR). UnCoR is the primary university-facing division of Intel Labs.  Limor is a member of the Computing Community Consortium (CCC) Council. 
This week, in Washington DC, an exciting and highly energetic workshop focused on "Computing Visions 2025: Interacting with the Computers All Around Us". This workshop was the first among several workshops planned for 2014, organized by a steering group of computing leaders drawn from the National Science Foundation (NSF) Computer and Information Science and Engineering Directorate Advisory Committee (CISE AC) and the Computing Community Consortium (CCC).  Successful workshops will articulate new research visions, galvanize community interest in those visions, and mobilize support for those visions from the computing research community, government leaders, and funding agencies.
On Tuesday, thought leaders from academia, government and industry got together to develop visions on how we will benefit from the power of computers in the future. In particular, smart devices that will range from embedded medical devices in the human body, bio-sensors, wearables, mobile devices, robots, smart-cars and more will provide both individuals and communities powerful Social, Cognitive, and Physical Assistance.  For example, future computing systems will assist  creating: affordable and high quality education, better health monitoring, better aids to overcome physical disabilities, better aids for mental disabilities, more affordable and better elderly care, safer transportation, and help people better understand their own behavior/habits and change them as needed.
To develop these intelligent assistants the interaction between people and computing will become a multi-party people-to-machine interaction. Immersive interaction will take place where touch, gestures, speech, gaze, bio-data, facial expressions, object interaction, location, context, and more will be highly interconnected.
The computing research is facing many technical challenges to realize these visions. The workshop participants started mapping the visions into technical challenges and actionable research roadmaps. The team will continue to work in the next few months to further refine and document its recommendations.
The workshop was organized by Limor Fix, retired from Intel (Chair), Daniela Rus, MIT, and Jennifer Rexford, Princeton University.  It was broken into four sessions:
Core Speech and Vision Technologies to Enable Better People-to-Machine Interactions: Andrew Senior, Google (Chair); Rama Chellappa, University of Maryland; Irfan Essa, Georgia Tech; David Nahamoo, IBM; Mari Ostendorf, University of Washington
Core Technologies for a Networked World of Machines and People: Vijay Kumar, University of Pennsylvania (Chair);  Volkan Isler, University of Minnesota; James Kuffner, Google; Edward Lee, UC Berkeley; Lynne Parker, University of Tennessee, Knoxville
Human-Machine Interaction and Assistance in Future Systems – Physical Aspects: Seth Teller, MIT (Chair); Chris Harrison, Carnegie Mellon Univesity; Charlie Kemp, Georgia Tech; Shiri Azenkot, University of Washington, Stefanie Tellex, Brown University
Human-Machine Interaction and Assistance in Future Systems – Social Aspects: Maja Mataric, University of Southern California (Chair); Deborah Estrin, Cornell; Holly Yanco, University of Massachusetts, Lowell; Tanzeem Choudhury, Cornell
You can learn more about future Computing Visions 2025 workshops here.