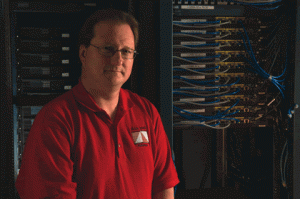 Computing Community Consortium (CCC) Council Member Mark Hill was featured by the National Science Foundation (NSF) in their "Discoveries".  Hill's work on the efficiencies in computer architecture is described in the article titled Shaving Nanoseconds from Racing Processors.
The computer is one of the most complex machines ever devised and most of us only ever interact with its simplest features. For each keystroke and web-click, thousands of instructions must be communicated in diverse machine languages and millions of calculations computed.

Mark Hill knows more about the inner workings of computer hardware than most. As Amdahl Professor of Computer Science at the University of Wisconsin, he studies the way computers transform 0s and 1s into social networks or eBay purchases, following the chain reaction from personal computer to processor to network hub to cloud and back again.
Hill's background as a scientist is featured in a related video in LiveScience, which even includes a photo of his 9th grade Science Fair project.
Hill is the Gene M. Amdahl Professor of Computer Sciences and Electrical and Computer Engineering at the University of Wisconsin- Madison.  In 2012, Hill chaired an activity which produced a CCC White Paper titled 21st Century Computer Architecture, which is closely related to his work featured by NSF.