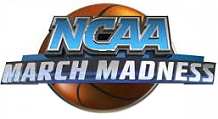 As you fill out your March Madness brackets, don't miss out on your opportunity to win a billion dollars. Predicting a perfect bracket will win you $1,000,000,000 from billionaire Warren Buffet and Quicken Loans. Odds are slim to win the grand prize (1 in 4,294,967,296), but Computer Scientists and Mathematicians are working on ways to increase those odds.
Computer Science Professor Sheldon Jacobson and his team at the University of Illinois at Urbana-Champaign have been working on BracketOdds since 2011.  BracketOdds is a tool that uses principles from probability theory and operations research to model the likelihood that a set of seeds will reach a particular round of the tournament. Jacobson and his team are constantly researching and updating their algorithms to help determine the probabilities of seeded teams propagating through the tournament. Click here to read January's CCC blog post on Bracket Odds and here for 2012.
Across the country at Davidson University, Tim Chartier, associate professor in the department of mathematics and computer science and his students have out-guessed millions of people using math. Last year, their best bracket beat more than 96 percent of 8 million bracket entries, and over the course of several years, their brackets have outperformed those selected by sports analysts.
"The math helps find information in the mass of game data," said Chartier. "It helps lessen the information and overwhelming combinations."
Chartier, who has been involved with sports-ranking research for about six years, said students adapt two mathematically based methods used by the Bowl Championship Series: the Colley method and the Massey method. Crunching data from 5,000 games into a computer, students create 350 equations, each with 350 unknowns, and put the computer to work.
"Those methods do better than a lot as it not only looks at your schedule but the strength of your schedule," he said. "We apply the rankings to all Division I teams, which is about 350 teams. We rank them all. We use the results of every game in the season. We don't confine ourselves to ranking only the 64 teams in the tournament."
In 2009, students submitted brackets to test new research ideas that integrated into the rankings a chance for upsets and a team's momentum, among other factors.