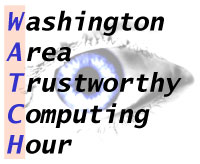 On Monday, November 25, 2013, Alessandro Acquisti from Carnegie Mellon University will present at the next Washington Area Trustworthy Computing Hour (WATCH), a series of thought-provoking talks by innovative thinkers with ideas that illuminate the challenges and provide signposts toward solutions in trustworthy computing.  The title of his talk is An Experiment in Hiring Discrimination via Online Social Networks.
The series is jointly organized by the National Science Foundation (NSF) Computer and Information Science and Engineering (CISE) and Social, Behavioral, and Economic (SBE) Directorates, and sponsored by the CISE Trustworthy Computing Program.
The abstract:
Anecdotal evidence and self-report surveys suggest that U.S. firms are using Web 2.0 and social networking sites to seek information about prospective hires. However, little is known about how the information they find online actually influences their hiring decisions. We present two controlled experiments of the impact that information posted on a popular social networking site by job applicants can have on employers' hiring behavior. In two studies (a survey experiment and a field experiment) we measure the ratio of callbacks that different job applicants receive as function of their personal traits. The experiments (a survey experiment and a field experiment) focus on sensitive traits that are either unlawful or risky for U.S. employers to enquire about during interviews, but which can be inferred from applicants' online presences. Both the results from the survey experiments and those from the field experiment provide evidence of potential hiring discrimination via social networking sites.
You can register for the webcast here.
Additional WATCH talks have been scheduled as follows:
October 17: Deanna Caputo, The Mitre Corporation
Phishing and insider threats
January 16: Roger Dingeldine, Tor Project
March 20: Maya Bernstein, Department of Health & Human Services
Privacy of Medical Records
April 17: Deb Frincke, National Security Agency
Cybersecurity Education
May 15: Dan Wallach, Rice
Star*Vote Austin, TX, voting system
July 17: Crispin Cowan, Microsoft
Protecting systems from buggy software
All talks are webcast, and archived for 1 month after the talk.  You can register for updates about the WATCH series by sending a blank email to: WATCH-ANNOUNCE-subscribe-request@listserv.nsf.gov.