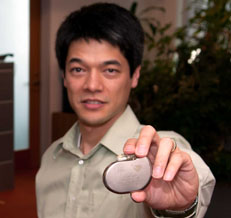 Computer science has been an active component of medical devices for a long time, but has recently been brought to the spotlight by former Vice President Dick Cheney, when he spoke about turning off the wireless component of his heart defibrillator.
Kevin Fu is an Associate Professor at the University of Michigan, where he conducts research on making embedded computer systems smarter through better safety and security, reduced energy consumption, and faster performance.  Much of his work is focused on medical devices.  Fu was recently interviewed for a New York Times article titled, "Of Fact, Fiction, and Cheney's Defibrillator," by Gina Kolata.  When asked about the possibility of a heart defibrillator being hacked into, Fu shares, "My opinion is it is probably unlikely that a remote attack of this nature could happen today."
Fu has conducted research in the area of  security analysis of cardiac implants, RFID credit cards, web authentication, and secure file systems, mostly funded by the National Science Foundation (NSF).  Through his research, he helped to bring to light the security concerns in medical devices.  You can view a talk Fu gave in 2012 on Medical Device Cybersecurity here.