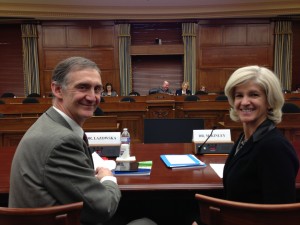 On February 14, Kelly Gaither (Texas Advanced Computing Center), Kathryn McKinley (Microsoft Research), and Ed Lazowska (University of Washington and Computing Community Consortium) testified to the Subcommittee on Research of the House Committee on Science, Space and Technology at a hearing on "Applications for Information Technology Research & Development."
Lazowska sang a familiar refrain:
 Research often takes a long time before it pays off – often 15 years or more.
Research often pays off in unanticipated ways – we can't predict what the biggest impact will be.
Advances in one sector enable advances in other sectors.
The research ecosystem is fueled by the flow of people and ideas back and forth between academia and industry.
Every multi-billion-dollar IT industry sector has a clear relationship to Federal research investment. Federal investment doesn't supplant private sector investment – it complements it.
Written testimony by all three witnesses is available here.
A transcript of Lazowska's oral testimony is here.  Visuals are here.