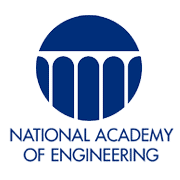 Election to the National Academy of Engineering – which has roughly 2,000 members across a dozen fields – is one of the highest professional honors accorded to engineers in academia, industry and government.
Today, the NAE Class of 2013 was announced – 69 new Members and 11 new Foreign Associates.  Elected in Section 5, Computer Science & Engineering, were:
Anant Agarwal, president, edX (online learning initiative of MIT and Harvard University), and professor, electrical engineering and computer science department, Massachusetts Institute of Technology, Cambridge. For contributions to shared-memory and multicore computer architectures.
David Dill, professor, department of computer science, Stanford University, Stanford, Calif. For the development of techniques to verify hardware, software, and electronic voting systems.
Ed Felten,  professor of computer science and public affairs, and director, Center for Information Technology Policy, Princeton University, Princeton, N.J. For contributions to security of computer systems, and for impact on public policy.
Helen Greiner, chief executive officer and founder, CyPhy Works Inc., Danvers, Mass. For leadership in the design, development, and application of practical robots.
Maurice Herlihy, professor of computer science, Brown University, Providence, R.I. For concurrent computing techniques for linearizability, non-blocking data structures, and transactional memory.
Urs Hölzle (Foreign Associate), Google Fellow and senior vice president for technical infrastructure, Google Inc., Mountain View, Calif. For contributions to the design, operation, and energy efficiency of large-scale data centers.
Eric Horvitz, distinguished scientist and co-director, Microsoft Research, Redmond, Wash. For computational mechanisms for decision making under uncertainty and with bounded resources.
Pradeep Sindhu, vice chairman, chief technical officer, and founder, Juniper Networks, Sunnyvale, Calif. For contributions to technology and commercialization of Internet Protocol routing.
Leaders of our field elected in other sections include:
Vijay Kumar, UPS Foundation Professor, School of Engineering and Applied Sciences, University of Pennsylvania, Philadelphia. For contributions in cooperative robotics, networked vehicles, and unmanned aerial vehicles, and for leadership in robotics research and education.  (Elected in Section 10, Mechanical Engineering)
Richard Murray, Thomas E. and Doris Everhart Professor of Control and Dynamical Systems and Bioengineering, California Institute of Technology, Pasadena. For contributions in control theory and networked control systems with applications to aerospace engineering, robotics, and autonomy.  (Elected in Section 1, Aerospace Engineering)
Congratulations to all new NAE Members!  Read the announcement here.