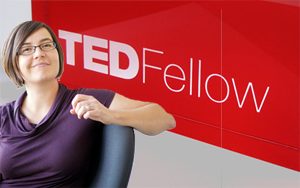 Every year since 2007, The TED Fellows program has recognized young innovators from around the globe for their "insightful, bold ideas that have the potential to influence our world." Last week, Miriah Meyer, one of our 2009 Computing Innovation Fellows, was selected as one of the 2013 TED Fellows – one of 20 fellows selected out of over 1200 applicants – for her pioneering efforts in interactive visualization:
Miriah Meyer (USA) – Science visualization designer
American designer who creates interactive visualization systems that help scientists make sense of complex data.
Miriah is being given the option to participate in either the TED Conference in Long Beach, CA, or the TEDGlobal in Edinburg, U.K.
It's worth noting that Miriah was also featured in Technology Review's annual list of 35 Innovators Under 35 last year.
Congratulations, Miriah, on another fantastic accomplishment!
And read more about all of the 2013 Fellows on the TED blog – "The proud, the few: the 2013 TED Fellows."
(Contributed by Kenneth Hines, CCC Program Associate)