Steve Lohr from the New York Times published an article today titled, "The Seeds That Federal Money Can Plant,"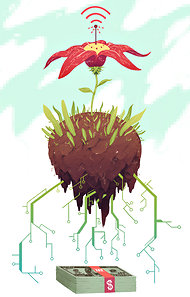 which explains the importance of federal funding to scientific research and development. The article highlights Luis Von Ahn's online service Duolingo. Duolingo, which has over 100,000 users, allows individuals to learn languages via crowdsourcing and seeks to "…translate the entire web into every major language". The service, which has attracted $15 million in venture capital, was initially supported by a five-year $120,000 per year National Science Foundation (NSF) grant.
The article mentions findings in a report published earlier this year by the National Research Council (NRC):
That pattern has been repeated countless times over the years. Government support plays a vital role in incubating new ideas that are harvested by the private sector, sometimes many years later, creating companies and jobs. A report published this year by the National Research Council, a government advisory group, looked at eight computing technologies, including digital communications, databases, computer architectures and artificial intelligence, tracing government-financed research to commercialization. It calculated the portion of revenue at 30 well-known corporations that could be traced back to the seed research backed by government agencies. The total was nearly $500 billion a year.
Peter Lee, Corporate Vice President of Microsoft Research Redmond, noted:
"If you take any major information technology company today, from Google to Intel to Qualcomm to Apple to Microsoft and beyond, you can trace the core technologies to the rich synergy between federally funded universities and industry research and development."
Read the full article here.
(Contributed by Kenneth Hines, CCC Program Associate)