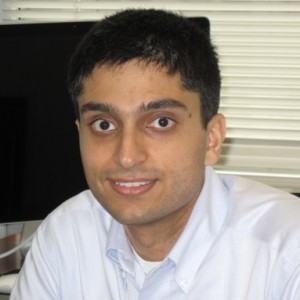 Erwin Gianchandani joined the Computing Community Consortium as our inaugural Director in April 2010.  Much of the success that the CCC has achieved is directly due to Erwin's efforts:  he is – among a long list of extraordinary attributes – smart, thoughtful, strategic, well-organized, tireless, and a joy to work with and be around.
When you are fortunate enough to hire a young person such as Erwin, you know that at some point he will move on to other opportunities.  We're sad to report that this day has come.  Next week, Erwin will leave CCC to become Deputy Director of the Division of Computer and Network Systems in NSF's CISE Directorate.  It's only fair:  Erwin left a position as a AAAS Fellow in CISE to join CCC.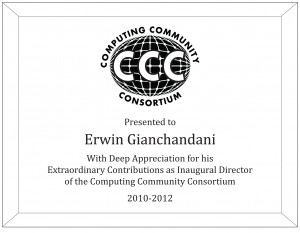 The great news, obviously, is that the computing research community will continue to benefit from Erwin's talents – hopefully for many years to come.
Kenneth Hines, CCC's outstanding Program Associate, will work with the rest of the Computing Research Association staff and with the members of the CCC Council to hold down the fort while we search for a new CCC Director.  (Interested?  See the job posting here.)
To Erwin:  Thank you for all you've done for the computing research community, and for all you'll do in the years to come!
– Ed Lazowska, Susan Graham, and the CCC Council