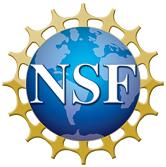 Updated Friday, Sept. 7 at 12:45pm EDT: The National Science Foundation (NSF) has issued a statement this afternoon further describing the realignment plans (emphasis added):
The National Science Foundation (NSF) yesterday announced plans to realign four program offices in the Office of the Director to maximize research and education outcomes for science and engineering, while enhancing NSF's operational agility. The proposed organizational changes include:

The Office of Cyberinfrastructure would become a division within the Directorate for Computer and Information Science and Engineering.

The Office of Polar Programs would become a division within the Directorate for Geosciences.

The Office of International Science and Engineering would be merged with the Office of Integrative Activities, and the combined unit would become the Office of International and Integrative Activities.

Pending fulfillment of any statutory or other obligations, the transition to the realigned organization would begin October 1, 2012.
Earlier details follow…
Originally posted Thursday, Sept. 6 at 11:00pm EDT: Science's Jeffrey Mervis is reporting tonight that the National Science Foundation (NSF) is undertaking a realignment affecting, among other units, its Office of Cyberinfrastructure (OCI):
Subra Suresh has been an advocate of greater international scientific collaboration since becoming director of the National Science Foundation (NSF) 2 years ago. And a reshuffling of four programs within his office, announced today, reinforces that message.

Although the lion's share of NSF's $7 billion budget flows through its seven research and education directorates, Suresh is directly responsible for overseeing 16 smaller programs. Under the new alignment, the offices of polar programs and cyberinfrastructure will be moved from the director's office and folded into discipline-based units at the foundation. International activities will remain under Suresh's purview, however, as part of a merger with a group that serves as NSF's new-ideas shop. The resulting Office of International and Integrative Activities (OIIA) will give both activities a higher profile.

The realignment, which will begin to take effect next month, is designed to lighten the director's managerial role, giving him more time to interact with outside communities and address big issues, says NSF's Judith Gan, who runs the agency's legislative and public affairs shop. But it's not a case of out-of-sight, out-of-mind. "As Dr. Suresh explained to staff, reporting to the director and having access to the director" are not mutually exclusive, Gan says.

Even so, the current head of NSF's international programs believes that the new alignment highlights the need for every NSF program manager to be thinking about how to expand their portfolio internationally. "When you have a boss who wants the agency to do more of what you are already trying to do, that's certainly a boost for the program," says David Stonner, who will become deputy to Wanda Ward within the new OIIA.
More as we hear it…