The following is a special contribution to this blog by Jenny Korn, a Ph.D. student in communications at the University of Illinois, Chicago. Korn was one of the participants of last week's 2012 Summer Social Webshop on Technology-Mediated Social Participation, co-organized by Alan Neustadtl, Jennifer Preece, and Ben Shneiderman, faculty at the University of Maryland at College Park, as well as Marc Smith of the Social Media Research Foundation.

Chosen from more than 100 applications, 50 doctoral students gathered at the University of Maryland last week for the Summer Social Webshop (the website includes videos of presentations!). The well-crafted presentations triggered lively discussions at the intersection of social media and network analysis. We represented many disciplines, including communications, sociology, information science, and computer science, and we hailed from universities across the United States and Canada. Among the many lessons of this workshop is the belief that our research matters and that we have cutting-edge, computerized tools with which to conduct innovative studies of online behavior, concepts, and theories.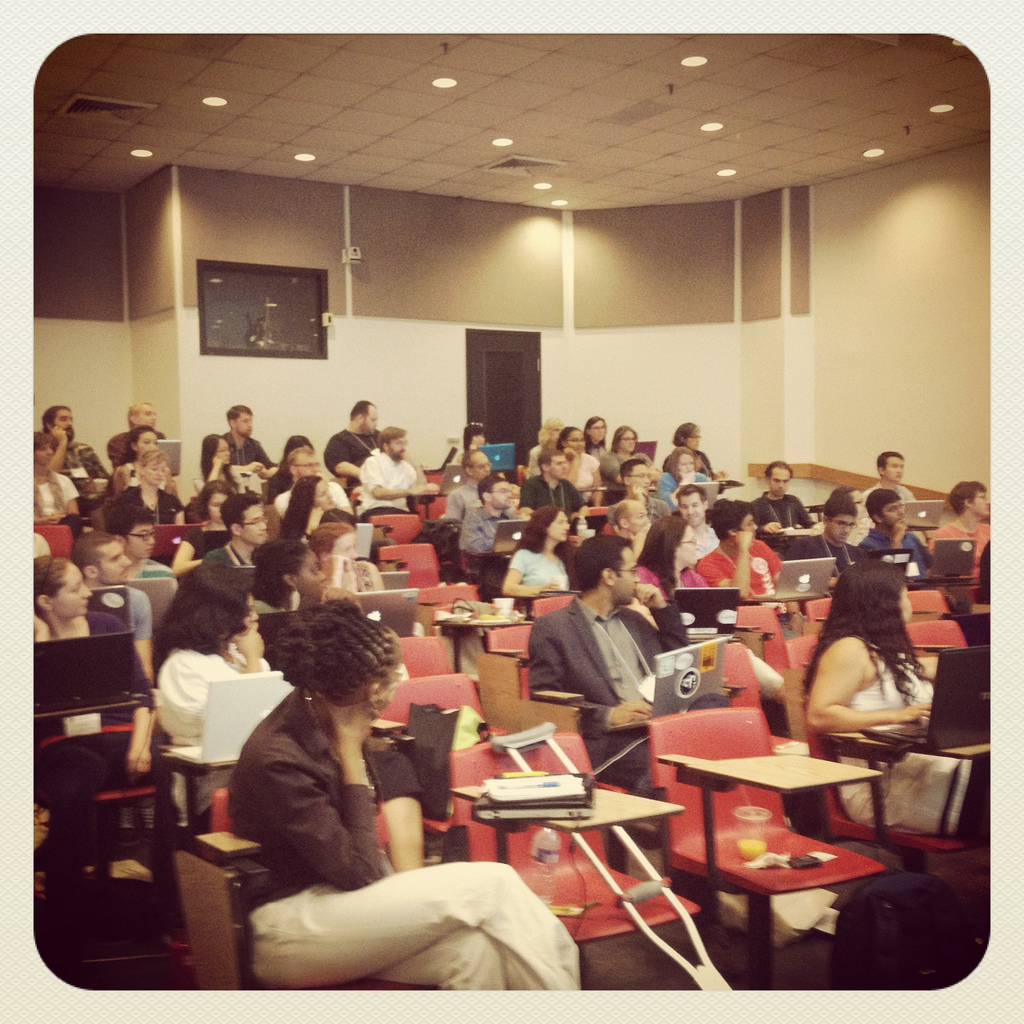 Funded by the National Science Foundation (NSF) and the Canadian GRAND research network, the Summer Social Webshop 2012 was an intense experience for the students, speakers, and organizers. Additional funding from Yahoo! added resources, while Google and Microsoft funded travel for the speakers. From breakfast until well past dinner, discussions were spirited, and new collaborations were formed. Thursday's Metro ride into nearby Washington, DC, gave students a chance to walk past The White House and then attend a set of policy-related presentations at the world-famous Brookings Institute (more following the link).
The policy sessions began with Lee Rainie (Pew Internet and American Life Project) and Zeynep Tufekci (University of North Carolina) addressing national and international impacts of social media. Then, Erwin Gianchandani presented the Computing Research Association's (CRA) Computing Community Consortium (CCC) to our Webshop audience, and we learned about the power of collective action in influencing national computing policy. He encouraged us to frame our research in ways that extended and refined current policies about our electronic infrastructure, participation, privacy, and disclosure. Former FCC Chairman Reed Hundt (CEO, Coalition for Green Capital) made an inspiring challenge to apply social media for substantive issues such as climate change and income inequality.
The Webshop encouraged us to intensify human participation, develop deep-science questions, promote novel research methodologies, increase educational opportunities, identify specific challenges, and influence future policy decision-making. We were reminded that the potential audience for our research is not merely our advisor or our school's faculty, but actually the entire world, and that the next "big idea" often stems from academic research.
The Webshop featured esteemed speakers whom we have cited in our work and whom were often Webshop alumni. This year's roster included, in chronological order, Marc Smith who spoke on NodeXL software, Pat O'Shea on progressive values, Ben Shneiderman on technology-mediated social participation, Elizabeth Churchill on data design, Bernie Hogan on Facebook APIs, Noshir Contractor on networked teams, David McDonald on social translucence, Eszter Hargittai on digital inequality, Ines Mergel on government media, Libby Hemphill on elected officials, Nancy Baym on online audiences, Lise Getoor on link mining, Alan Neustadtl on network theory, Jennifer Preece on motivation in citizen science, David Huffaker on hybrid approaches, Cliff Lampe on mixed methods, Gerhard Fischer on participatory cultures, Lee Rainie on the Pew Research Center's Internet and American Life Project, Zeynep Tufekci on globalized media, Sasha Issenberg on election wins, Reed Hundt on clean energy, Allan Friedman on the Brookings Institution, Jessica Vitak on collapsed contexts, Katie Shilton on participatory data, Jennifer Golbeck on Congressional Tweets, Kevin Crowston on socio-computational research, Jana Diesner on text networks, Paul Resnick on health applications, and Itai Himelboim on Twitter networks. These experienced scholars shared candidly about their challenges and provided practical advice about conducting research, like using our dissertation methodology to spawn methods papers (Hargittai), partnering with multilingual scholars to analyze under-researched data (Hemphill), reserving data for subsequent projects (Baym), making methodological choices counter to our own biases (Neustadtl), teaming with experts we genuinely like across other methods (Lampe), conceptualizing our dissertations as the beginning of our research stream (Vitak), and creating charts of suitable methods as justification for our actual methodologies (Diesner).
"A Ph.D. journey is challenging on many levels," said Joanne White, a participant from the University of Colorado, Boulder. "The Webshop gave me an opportunity to be immersed in an environment of academic support, instruction, and collaboration with both my peers and leaders in the field which added fuel to my desire to produce good, relevant scholarship."
Two notable comments from the anonymous survey read:
"This was an awesome life-shaping experience."
"This was an excellent, memorable, and often inspiring institute. I feel lucky to have participated."
The Webshop is a vital breeding ground for innovative ideas from experienced and emerging scholars alike. Resonant connections were made through conversations in sessions and over meals, creating unique opportunities for future trans-disciplinary collaborations. It is well-aligned with the CRA/CCC's goals of developing a new generation of scholars in computing, information sciences, and related disciplines. We as students of the 2012 cohort of Webshop are grateful for this opportunity, and we look forward to making a positive difference with our scholarship.
Editor's note: See a summary of last year's version of the Summer Social Webshop here.