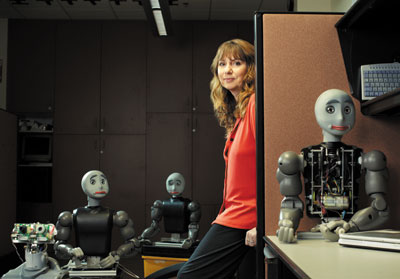 University of Southern California computer scientist and neuroscientist Maja Matarić is the subject of an interview appearing in today's Nature. On the eve of the release of a new film, Robot and Frank, winner of the annual Sundance Film Festival, Matarić talks about the film and its coverage of assistive robotics — including recent advances for people with disabilities, children with autism, and the elderly.
From the Nature piece (following the link):
Did the film use a real robot?

The film-makers make a human in a robot suit look like a robot trying to look human. The robot's capabilities are necessarily beyond the current state-of-the-art: it serves as butler, nurse, chef and maid. Robots that manipulate objects in the real world are harder to engineer, and because these tasks require coordination and strength, safety is a major concern.

Are you designing those kinds of robots?

There's a whole realm of need that doesn't demand any physical work. Robots can help people to cope with depression, isolation, exercise and even social disorders such as autism. Most robotics is about getting the robot to do the right thing, whereas we make robots that get the person to do the right thing. Our socially assistive robots provide coaching, encouragement and companionship. We would never want to coerce people; rather, we aim to influence their behaviour. Someone who has had a stroke may need to spend hours each day working to regain function in an arm. A robot can use persuasion, motivational techniques and social manipulation to help the patient to persist with that. One student in my lab is studying how a robot might use the human quality of reciprocity. By helping a person with a task, such as shelving books, it would make it more likely that the person would adhere to the robot's requests, such as to do more exercise.

Can robots help with diagnosing autism?

With about one in every 100 children affected, early diagnosis is badly needed. We are designing a robot for diagnostic use in paediatric waiting rooms: as kids play with it, it could flag those with autism-like symptoms.

…

How can long-term robot–human relationships be managed?

We don't want attachments between humans and their robots to become dysfunctional. As with human–human relationships, it is best that people do not become overly dependent, submissive or abusive. Some ask what will happen if a well-loved robot breaks down. Its memory will be backed up and, for a price, an identical body can be built for its data to live in. The real question is, what is the warranty?

Reprinted by permission from Macmillan Publishers Ltd: Nature 488, 280 (16 August 2012) doi:10.1038/488280a, copyright 2012.
Read the full interview here.
(Contributed by Erwin Gianchandani, CCC Director)