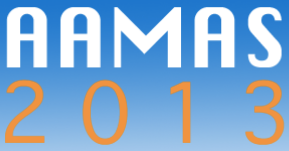 In cooperation with the International Conference on Autonomous Agents and Multiagent Systems (AAMAS), the Computing Community Consortium (CCC) is pleased to invite submissions to a Challenges and Visions Track at AAMAS 2013, to be held in St. Paul, Minnesota, May 6-10, 2013. The emphasis of this track is on visionary ideas, long-term challenges, and new research opportunities that are outside the current mainstream of the field. In this way, this track will serve as an incubator for innovative approaches, risky and provocative ideas, and to propose challenges and opportunities for the field in the near future.
To encourage researchers to present truly visionary concepts, the CCC is offering prizes for up to three top papers in this special track — first prize $1000, second prize $750, and third prize $500 — to be awarded as travel grants to the authors or co-authors.
Submissions are due October 8, 2012 (abstract) and October 12, 2012 (full paper).
For more details, see the complete call for papers and submission instructions here.
(Contributed by Erwin Gianchandani, Computing Community Consortium, and Maria Gini, University of Minnesota)