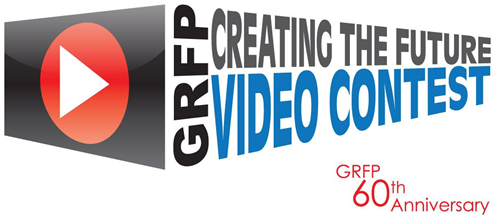 To help mark the 60th anniversary of its Graduate Research Fellowship Program (GRFP), the National Science Foundation (NSF) has announced a new video contest — "Creating the Future" — that challenges Fellows to create short videos, not to exceed 90 seconds each, communicating how their NSF-funded research will help shape the future for themselves, for their field, or for the world. Submissions are due by Sept. 14, 2012, and winners — to be selected by a panel of judges as well as the broader public for a "People's Choice" award category — will be announced in mid-November. First place carries a $2,000 cash prize.
According to the contest website (following the link):
To celebrate the 60th Anniversary of the NSF Graduate Research Fellowship Program, here's a great opportunity to be creative and share your excitement about how your research can help shape the future — for yourself, your field, or your world. The GRFP video contest is your chance to create a video to SHOW us! It's easy to enter and cash prizes provide an added incentive to use your talents to best advantage!
The judging criteria:
Visual Impact

A successful entry provides viewers with new insight, is visually striking, incorporates a variety of perspectives and media, and is shot and edited to a high standard.

Effective Communication

A successful entry delivers clear and understandable messages, using plain language (written and spoken) throughout, in the entry itself and any accompanying text.

Freshness/Originality

A successful entry has an individual voice, vitality and energy, and emphasizes new methods and insights to create a novel presentation or tell a compelling story about the researcher(s) and/or their research.
For more details — including to register to submit an entry — check out the contest website, which features a full-length contest participants' guide.
(Contributed by Erwin Gianchandani, CCC Director)