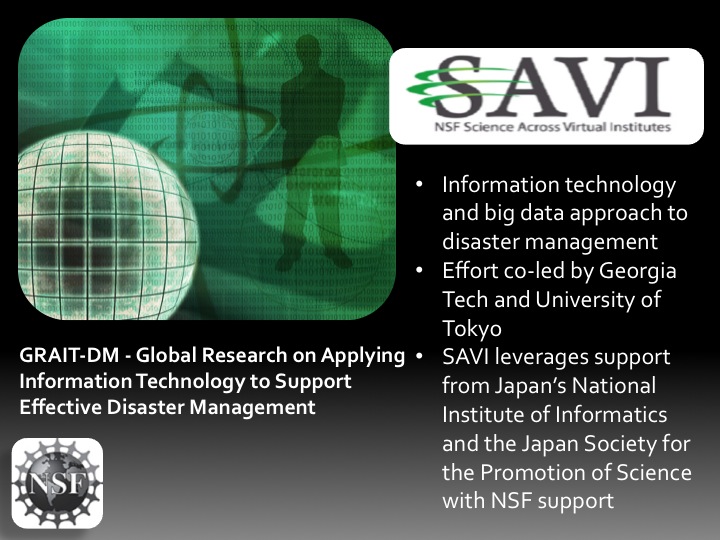 At a meeting of the National Science Board (NSB) yesterday, National Science Foundation (NSF) Assistant Director for Computer and Information Science and Engineering (CISE) Farnam Jahanian announced a new Science Across Virtual Institutes (SAVI) project that brings together teams from the U.S. and Japan to pursue fundamental advances in information technology in support of effective disaster management.
The new SAVI — to be called Global Research on Applying Information Technology to Support Effective Disaster Management (GRAIT-DM) — will foster a global research collaboration focused on (following the link):
Improving the resilience and responsiveness of information technology to enable real time data sensing and analysis, critical for time-sensitive decision-making;

Advancing fundamental knowledge and innovation for resilient and sustainable civil infrastructure and distributed infrastructure networks; and

Acquiring big data and improving broad knowledge of preparedness and response at human, societal and global scales.
Besides NSF, the research team — to be co-led by Calton Pu at Georgia Tech and Masuru Kitsuregawa at the University of Tokyo, and to include over 22 current NSF awardees — will receive support from Japan's National Institute of Informatics and the Japan Society for the Promotion of Science (JSPS).
In making the announcement, Jahanian noted:
"This new SAVI fortifies the agreement between NSF and Japan's Ministry of Education, Culture, Sports, Science and Technology, or MEXT. Just over a month ago in Tokyo, Together, [NSF Director Subra Suresh] and MEXT Minister [Hirofumi] Hirano agreed that collaboration between U.S. and Japan on big data and disaster research would yield important mutual advantages…

"This SAVI has been in the works for more than six months… It builds on the efforts from the community of researchers supported by NSF's RAPIDS (from all directorates and offices) following the Tohoku earthquake and tsunami in Japan [last year]."
Yesterday's announcement follows a recent agreement between NSF and Japan's Ministry of Education, Culture, Sports, Science and Technology, or MEXT. Signed just over a month ago in Tokyo, it states that collaboration between U.S. and Japan on big data and disaster research would yield important mutual advantages.
Importantly, GRAIT-DM attempts to address a key challenge articulated in the recent Computing Community Consortium (CCC) report summarizing the outcomes of a visioning activity on computing for disaster management: mitigating the effects of future disasters by enabling the collection and analysis of vast data sets from both environmental sensors and social, information networks.
NSF INSPIRE Awards
NSF also announced yesterday the first set of its Integrated NSF Support for Promoting Interdisciplinary Research and Education (INSPIRE) awards, providing over $30 million for 40 projects that seek to pursue transformative interdisciplinary research. A key goal of NSF's INSPIRE program is to "address some of the most complicated and pressing scientific problems that lie at the intersection of traditional disciplines."
According to the announcement:
In FY12, NSF established INSPIRE to fund interdisciplinary, potentially transformative research. Once fully implemented, INSPIRE will complement other NSF efforts with a suite of new, highly innovative NSF-wide activities and funding opportunities. INSPIRE awards are co-funded between the Office of Integrative Activities and other NSF offices and directorates. INSPIRE aims to widen the pool of prospective discoveries by supporting proposals that may be viewed as falling outside of other NSF programs and funding mechanisms.

The awards made under INSPIRE include research on resorbable electronics, modeling and optimization of DNA manufacturing processes, statistical mechanics of natural climate variability, wireless sensor networks in experimental biology research, and scalable toolkit for transformative astrophysics research.
Among the INSPIRE awardees co-funded by NSF's CISE directorate:
STAR: Scalable toolkit for Transformative Astrophysics Research, Louisiana State University
The Hunting of the Spark: A Systematic Study of Natural Creativity in Human Networks, University of Cincinnati
Towards Ubiquitous Adoption of Wireless Sensor Networks in Experimental Biology Research, New Mexico State University
To learn more and see all the funded INSPIRE projects, check out the official press release.
(Contributed by Erwin Gianchandani, CCC Director)