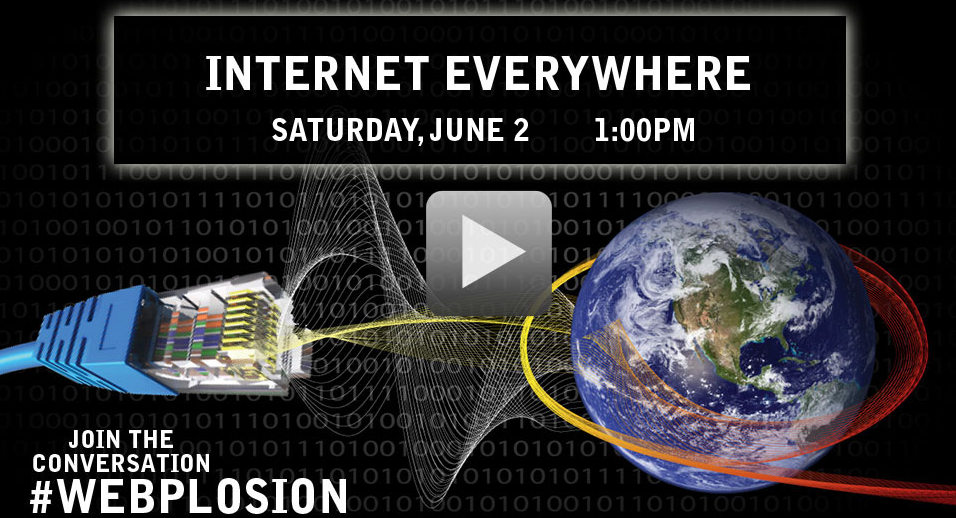 Beginning at 1pm EDT this afternoon, the World Science Festival — an annual celebration and exploration of science, culture, and art that's taking place all across New York City this week  — will stream live from New York University's Skirball Center for the Performing Arts a 90-minute session titled "Internet Everywhere: The Future of History's Most Disruptive Technology":
Disruptive technologies uproot culture, can precipitate wars and even topple empires. By this measure, human history has seen nothing like the Internet. Pioneers of the digital revolution examine the Internet's brief but explosive history and reveal nascent projects that will shortly reinvent how we interact with technology — and each other. From social upheaval and ever-shifting privacy standards to self-driving cars and networked groceries, this eye-opening program provides a stunning glimpse of what's around the corner.
Among the panelists (following the link…):
Vinton Cerf

Computer Scientist

Vinton Cerf, a vice president and Chief Internet Evangelist at Google, is widely known as one of the founding fathers of the Internet. More »

Neil Gershenfeld

Physicist, Computer Scientist

Neil Gershenfeld leads a unique laboratory, the Center for Bits and Atoms at MIT, that is breaking down boundaries between digital and physical worlds. More »

Elizabeth Stark

Internet Law Expert

Elizabeth Stark is a visiting fellow at the Yale Information Society Project and a Lecturer in Computer Science at Yale University. She is an influential open internet advocate who was deeply involved in stopping SOPA and fostering online engagement in support of internet freedom. More »

Alex Wright

Director of User Experience at The New York Times

Alex Wright is the Director of User Experience at The New York Times and the author of Glut: Mastering Information Through the Ages, hailed by the Los Angeles Times as "a penetrating and highly entertaining meditation on our information age and its historical roots." More »
Check out the live webcast, beginning at 1pm EDT, right here.
Turns out the "Internet Everywhere" session is one of several about computing at this year's Festival. We'll have more about the others — including one on thinking machines and another on human-robot interactions featuring the likes of Yann LeCun, Josh Tenenbaum, Maja Matarić, and Dennis Hong — as soon as the videos are posted to the web.
(Contributed by Erwin Gianchandani, CCC Director)