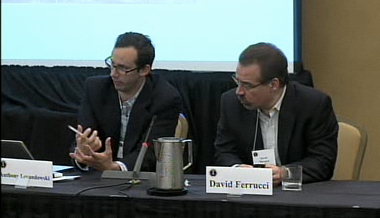 Data and computing were front and center at today's meeting of the President's Council of Advisors on Science and Technology (PCAST) in Washington, DC, with U.S. Chief Technology Officer (CTO) Todd Park summarizing the Administration's rollout this week of a "digital roadmap" seeking to take advantage of existing government data repositories — and David Ferrucci, head of IBM's Watson project, and Anthony Levandowski, product manager for Google's self-driving car technology, delivering talks about the fundamental advances being enabled by their teams' work (more following the link).
Open Data Initiatives
Park led off with the Administration's digital roadmap — Digital Government: Building a 21st Century Platform to Better Serve the American People — which seeks to enable access to high-quality digital government information and services anywhere, anytime, and on any device, some of which is likely to be beneficial to the research community. According to the roadmap, which was unveiled Wednesday:
Today's amazing mix of cloud computing, ever-smarter mobile devices, and collaboration tools is changing the consumer landscape and bleeding into government as both an opportunity and a challenge. New expectations require the Federal Government to be ready to deliver and receive digital information and services anytime, anywhere and on any device. It must do so safely, securely, and with fewer resources. To build for the future, the Federal Government needs a Digital Strategy that embraces the opportunity to innovate more with less, and enables entrepreneurs to better leverage government data to improve the quality of services to the American people.

Early mobile adopters in government — like the early web adopters — are beginning to experiment in pursuit of innovation. Some have created products that leverage the unique capabilities of mobile devices. Others have launched programs and strategies and brought personal devices into the workplace. Absent coordination, however, the work is being done in isolated, programmatic silos within agencies.

Building for the future requires us to think beyond programmatic lines. To keep up with the pace of change in technology, we need to securely architect our systems for interoperability and openness from conception. We need to have common standards and more rapidly share the lessons learned by early adopters. We need to produce better content and data, and present it through multiple channels in a program and device-agnostic way. We need to adopt a coordinated approach to ensure privacy and security in a digital age.

These imperatives are not new, but many of the solutions are. We can use modern tools and technologies to seize the digital opportunity and fundamentally change how the Federal Government serves both its internal and external customers — building a 21st century platform to better serve the American People.
At the core of the digital roadmap is, as Park called it, "data liberation," offering opportunities for entrepreneurs and researchers alike:
"The first bucket of initiatives is data liberation to spur entrepreneurship in the nation. This is inspired by what the government did in prior eras with liberation, if you will, of weather data and access to global positioning…

"The government's decision to liberate access to global positioning systems [for example] has spun out everything from navigation systems to precision crop farming, which has made agriculture more efficient, [enabled] Four Square on your iPhone, and [resulted in substantial productivity for the nation, as it was] recently estimated that GPS alone contributes $90 billion annually to the American economy… just [by] improving our lives in countless ways.

"So weather and GPS [are] the tip — the big tip, but the tip — of the iceberg when it comes to government data resources available for entrepreneurs to tap into to innovate, build new products…"
Here Park touted the Department of Health and Human Services' (DHS) Health Data Initiative as a success story:
"A prototype of how to do that and build upon the success of weather and GPS data liberation is something called the Health Data Initiative. [It is] one of the initiatives I co-founded working with [the] team at HHS, and the idea behind [it] is to take vast reservoirs of data sitting in the vaults of HHS, make it available, make it readable, and turn it into magic [with] new products and services and innovation…"
He noted that the components that made the Health Data Initiative successful — making new data not previously accessed available to the public or to qualified external entities, as well as "taking data that may have been publicly available but in the form of books, PDFs, or static websites not usable by third-party developers [and] making [them] available in machine-readable liquid form" — are now being replicated in other national priority areas:
"So what we are doing is with our new Open Data Initiatives program, which we've now launched, we are doubling down on helping initiative and will continue to press and accelerate and clone the data initiative in the energy space and education space, in the public safety space and the nonprofit sector space where the government has data about input and output and potentially other sectors, as well. Those are rolling and the play is not just liberate data, but to engage with the ecosystem of users from the beginning…

"Through ideation workshops, codeathons, and 'datapaloozas' that showcase the best innovations, the program will actively stimulate the creation of new apps and services by creative entrepreneurs — improving the lives of Americans in many tangible ways and creating jobs of the future at the same time."
Importantly, Park emphasized, "The initiatives are not [just] about liberating access to government data; they are also about encouraging private sector to liberate access to its data. And in a very particular way that protects privacy."
Park also presented the Administration's newly launched Presidential Innovation Fellows program, which seeks to bring innovators from outside government for focused "tours of duty" with the best Federal innovators on game-changing projects. By "combining the know-how of citizen change agents and government change agents in small, agile teams that move at high speed, these projects aim to deliver significant results within six months."
The fellows program kicked off Wednesday with five projects, including the Open Data Initiatives program, and applications for prospective fellows may be submitted electronically.
Finally, Park put forward an interesting "ask" of PCAST:
"It [would] be phenomenal if PCAST could create a subcommittee to advise this work — to advise work on innovation and governance. A lot of work is typically innovation broadly across the nation, you know, but increasingly innovation across the nation are indistinguishable from each other. Just kind of blend and mash up. The public sector, private sector, academic sector, into change systems that mash up the energy of all the above to make things happen. So if you all could create a subcommittee… that would be [of] incalculable value…"
Members of PCAST were very receptive to Park's comments, including the request for a subcommittee. As PCAST co-chair Eric Lander said, "[It may] be the case [that we] might have a subset of PCAST and [also] reach out to bring in other expertise."
Watson and the Self-Driving Car
Next up, Ferrucci and Levandowski summarized their teams' progress, noting especially the fundamental advances being enabled and the implications in the years ahead.
We've covered Watson — and Ferrucci's numerous talks — extensively in this space in the past year, but one key point emerged today:
"The other point I want to make here: we believed that driving technology to win at Jeopardy would drive all the technologies within it.

"If you look at [parsing or relationship extraction or knowledge frame extraction or contextual alignment, and so on] when we were done, we had leading scores in all these areas [as compared to the published literature]. Not two times, three times, [or] five times leading scores, but a little bit. The real value is how we brought these things together, how we architected it, and how we drove the project to push the state-of-the-art. And by doing that we advanced — we made advances on — all the component technologies…"
Meanwhile, Levandowski elaborated on the motivation for the self-driving car…
"We have technology today to minimize and almost avoid the crashes if the first place. If you take a look at it, 90 percent of the collisions that occur in United States today are because of a human failure. Over 80 percent of them are because we are distracted in some form or another. This is completely unacceptable, especially from an engineering standpoint…

"So we thought, let's reinvent what it means to have a vehicle: what is some of the technology coming into the world today, and let's re-imagine what would happen if a computer was invented before an automobile — how would the car be different today.

"And this is at least fundamental new assumptions about how you expect the human human relationship of the vehicle and what you can get about it…

"So if you take a step back, you look at it, for many people today the distraction is not texting, it's actually driving… The idea is not new it's been around since the 50s since the invention of the automobile. We're not doing anything else; we're just trying to make it work. Just now we're on the cusp of being able to have the sensors software and processing power to have this intelligence on the vehicle."
…how the car works…
"We have a laser scanner and I'll show you what the data looks like. It's a 360-degree view around the vehicle. This means there's no blind spots [and] there's no distractiveness. There's a radar that sees very far and sees the speeds of the vehicles moving around us. Cameras, GPS, and other computers onboard.

"So the way the system works is kind of simple. You kind of start off in a matrix. The car is sitting here [but] doesn't know where it is. You have a little bit of a GPS. Basically you get a view of the world [from the camera]. From that you build up an additional level of map. And then you start throwing in sensors — what you see [is] the vehicle's system is understanding, it's perceiving around the car.

"By doing this, you can plan how the vehicle should actually move through space. So think of it as this. The car drives just like we do, it has sensors [through which] it perceives the world around it, it understands where streets are, and [it] makes [decisions] about how to proceed forward [based] on that.
…and what it means for society:
"I'm fortunate enough to have one of these [self-driving cars] that takes me to work and back every day, and I could tell you right now, it actually drives better than I do, so you should be a little bit comforted by that.

"But it also changes, you know, how I behave as a person. The technology actually helps me see everything that's around me. Because I'm not focused so much on centering on the steering wheel I'm seeing exactly where the car could be, I could take a step back and think about what's on the road. I can free my mind about what's happening today at work — I can think who I'm having meetings with, what are important things I need to get done today — so [that] when I arrive at work, instead of being tired and aggressive for having battled traffic for 45 minutes or an hour, I'm actually fresh and ready to go and know exactly what to do. [The] same thing [is true] in reverse. On my way home, I can start winding down — [I can] think about what I want to do when I see my wife and kids at home. I think this is some of the potential that [catalyzes] a fundamental change in society that transportation no longer needs to be aggressive as it is today.

"We also imagine the future where the vehicles don't necessarily need to be occupied with people like myself. Imagine that you are going to a restaurant and you're running late, and they're going to give your table away. Instead of circling around driving around for 20 minutes looking for that parking space so you can go in, [imagine] pulling up at the front entrance of the restaurant, getting out, and then locking the car and having the car drive off several blocks away and go park itself nicely.
Perhaps most importantly, Levandowski emphasized the importance of imagination in the pursuit of this work:
"I'd like to leave you guys with a couple things and this is very important. While some of some of these concepts seem very futuristic I'm here to tell you they're a couple years away and we shouldn't fear this type of technology. We should actually embrace it. The biggest fear I have is [that] the failure of our imagination is really what's going to hold us back. You know, I think that this is a new age in the automobile. I personally believe this is one of the most important things that computers are going to do in the next 10 years — drive vehicles and prevent people from getting injured — and in doing so this is how we can have America taking a role back in leading the industry. So, that's transforming peoples lives by improving mobility."
For more details, watch an archived webcast of the PCAST meeting, which should be available here shortly.
(Contributed by Erwin Gianchandani, CCC Director)