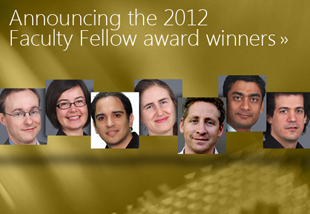 Microsoft Research today announced its 2012 Faculty Fellows, recognizing 7 outstanding new faculty members — with diverse research interests spanning robotics, machine learning, human-computer interaction, and social networking, and representing "a selection of the best and brightest in their fields." Among this year's Fellows is one of our 2009 Computing Innovation Fellows (CIFellows), Miriah Meyer, who started in the fall as an assistant professor at the University of Utah.
According to Microsoft's announcement:
Now in its eighth year, the Microsoft Research Faculty Fellowship program has awarded nearly 50 innovative faculty members in order to stimulate and support creative research undertaken by promising researchers who have the potential to make a profound impact on the field of computing in their research disciplines. This program also creates potential collaborative partnerships with the academic community while providing Faculty Fellows with opportunities to focus on their academic research and access to Microsoft resources.
See the full list of 2012 Microsoft Research Faculty Fellows after the jump…
Emma Brunskill

Carnegie Mellon University

Assistant Professor

Department of Computer Science

Emma Brunskill's research focuses on creating automated decision systems that interact with people, a challenge that spans artificial intelligence, machine learning, and human-computer interaction. She is particularly interested in adaptive, individualized tutoring systems that learn and self-optimize. Emma also works on health applications and on using information communication technologies to address challenges in low resource settings and developing regions.

Constantinos Daskalakis

Assistant Professor

Massachusetts Institute of Technology

Department of Electrical Engineering and Computer Science

Constantinos Daskalakis is the X Consortium Assistant Professor of Computer Science at MIT. His research studies the interface of computer science and economics, with a focus on computational aspects of the Internet, online markets, and social networks. Daskalakis has been honored with the 2007 Microsoft Graduate Research Fellowship, the 2008 ACM Doctoral Dissertation Award, the 2010 Sloan Fellowship, the 2011 SIAM Outstanding Paper Prize, and the MIT Ruth and Joel Spira Award for Distinguished Teaching. His work on the complexity of the Nash equilibrium was honored by the Game Theory Society with the First Computer Science and Game Theory prize. Daskalakis received his PhD in Computer Science from UC Berkeley and was a post-doctoral researcher at Microsoft Research prior to joining MIT.

Stephen Gould

Senior Lecturer

Australian National University

School of Computer Science

Stephen Gould is a faculty member in the Research School of Computer Science at the Australian National University. He received his PhD from Stanford University in 2010. Prior to his PhD, Stephen founded and worked in a number of start-up companies. Stephen's current research interests are in developing mathematical models that allow computers to learn how to interpret scenes from images. This involves recognizing objects and understanding how they interact with other objects and with their environment.

Andreas Krause

ETH Zurich

Assistant Professor

Department of Computer Science

Andreas Krause's research is in learning and adaptive systems that actively acquire information; reason; and make decisions in large, distributed, and uncertain domains, such as sensor networks and the web. It spans theoretical aspects in machine learning and optimization, as well as interdisciplinary applications, ranging from community sensing to computational sustainability to social networks. He got his PhD in Computer Science from Carnegie Mellon University in 2008. He is a Kavli Frontiers Fellow of the U.S. National Academy of Sciences, and received an NSF CAREER award as well as several best paper awards.

Miriah Meyer

University of Utah

Assistant Professor

School of Computing

Miriah Meyer's research lives at the interface of computer science and data-intensive domains, where she designs interactive visualization systems that help scientists make sense of complex data. Her current work focuses on nimble and intuitive visualization tools that support research in genomics and molecular biology. Meyer takes a user-centered, problem-driven approach to developing visualizations that target specific scientific questions, working closely with scientists in an iterative and collaborative process. Her tools are integrated into the workflow of numerous biological labs and have led to several scientific discoveries, as well as to the validation and refinement of experimental and computational methods.

Juan Carlos Niebles

Assistant Professor

Universidad del Norte

Electrical and Electronic Engineering

Juan Carlos is interested in helping computers and robots see the world. In particular, his research is focused on designing novel algorithms for automatic recognition and detailed understanding of human motions, activities, and behaviors from images and videos. This technology has the potential to enable new life-improving activity-aware systems, such as personal robots and smart homes, smart video surveillance, medical diagnosis and monitoring, automated sports analysis, and semantic video search.

Ashutosh Saxena

Assistant Professor

Cornell University

Department of Computer Science

Ashutosh Saxena works on a new generation of robots that will operate fully autonomously in human environments. His research is focused on the development of new machine-learning algorithms that enable robots to process massive amounts of sensory input data in real time and learn how to perform tasks in unstructured environments. His primary application domain is in assistive robotics, where his algorithms have enabled robots to perform tasks such as fetching items on verbal request, perform basic household chores, and identify and assist in human activities. He hopes to see such assistive robots appear in our homes, offices, and nursing homes soon.
The Fellows will officially be recognized at Microsoft Research's Faculty Summit this July.
The 2012 class joins a highly prestigious group of Faculty Fellows over the last 8 years, recognized and rewarded as the very best young computing research faculty from around the world for their pursuit of "novel directions [and] potential for high impact on the state of the art."
Congratulations to Emma, Constantinos, Stephen, Andreas, Miriah, Juan Carlos, and Ashutosh — truly the future leaders of our field!
(Contributed by Erwin Gianchandani, CCC Director)