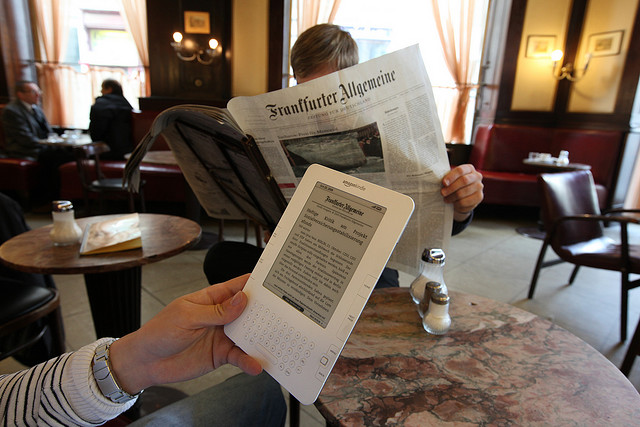 Computer scientist — and 2009 Computing Innovation Fellow (CIFellow) — Nick Diakopoulos recently published a white paper about the similarities between journalism and computer science that's attracted quite a bit of buzz. In an article in Harvard's Nieman Journalism Lab earlier this month:
What if journalism were invented today? How would a computer scientist go about building it, improving it, iterating it?

He might start by mapping out some fundamental questions: What are the project's values and goals? What consumer needs would it satisfy? How much should be automated, how much human-powered? How could it be designed to be as efficient as possible [more after the jump]?

Nick Diakopoulos has attempted to create a new framework for innovation in journalism. His new white paper, commissioned by [City University of New York's] Tow-Knight Center for Entrepreneurial Journalism, does not provide answers so much as a different way to come up with questions.

Diakopolous identified 27 computing concepts that could apply to journalism — think natural language processing, machine learning, game engines, virtual reality, information visualization — and pored over thousands of research papers to determine which topics get the most (and least) attention. (There are untapped opportunities in robotics, augmented reality, and motion capture, it turns out.)

He thinks computer science and journalism have a lot in common, actually. They are both fundamentally concerned with information. Acquiring it, storing it, modifying it, presenting it.

"The goal is really about making innovation in journalism more technologically literate and aware," Diakopolous [said]. The obstacles to progress in news organizations are probably cultural — "not having come from a user-centered design culture," he said, "where design thinking is important or…you really think about people's needs or values."

Diakopolous deconstructs the newsgathering process to help identify which parts can be better handled by computers than humans…
To learn more, check out the Nieman Journalism Lab article, and read Nick's relatively short white paper.
(Contributed by Erwin Gianchandani, CCC Director)