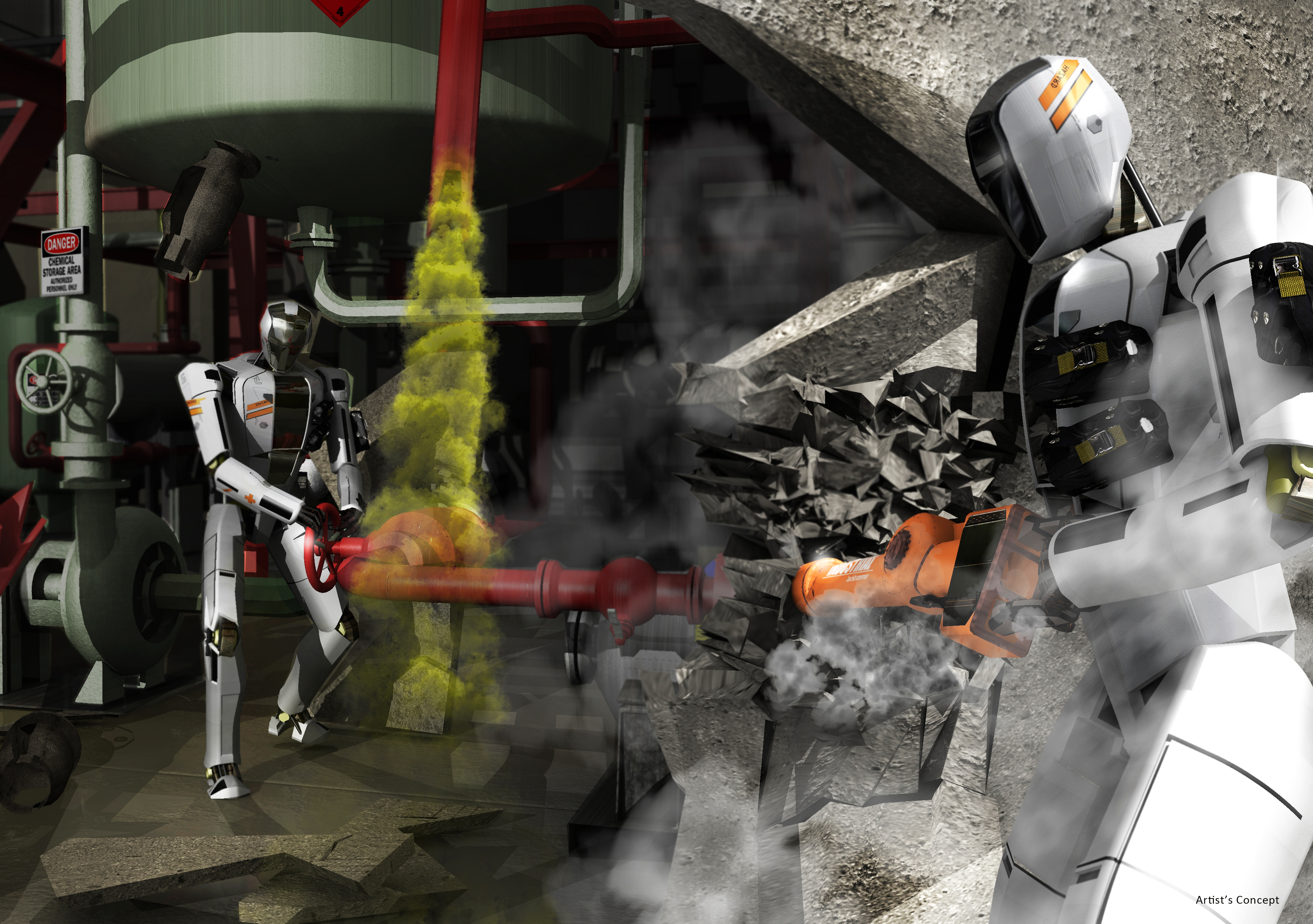 The Defense Advanced Research Projects Agency (DARPA) unveiled the DARPA Robotics Challenge yesterday, offering a $2 million prize — plus up to $32 million in related R&D work — "to whomever can help push the state-of-the-art in robotics beyond today's capabilities in support of the [Department of Defense's] disaster recovery mission." The challenge seeks the development of "ground robotic capabilities to execute complex tasks in dangerous, degraded, human-engineered environments." It will launch in October, and DARPA is seeking teams that will compete in challenges involving staged disaster-response scenarios that require "successful navigation of physical tasks corresponding to anticipated, real-world disaster response environments."
According to the Broad Agency Announcement (BAA) (following the link):
The primary goal of the DARPA Robotics Challenge program is to develop ground robotic capabilities to execute complex tasks in dangerous, degraded, human-engineered environments. The program will focus on robots that can utilize available human tools, ranging from hand tools to vehicles. The program aims to advance the key robotic technologies of supervised autonomy, mounted mobility, dismounted mobility, dexterity, strength, and platform endurance. Supervised autonomy will be developed to allow robot control by non-expert operators, to lower operator workload, and to allow effective operation despite low fidelity (low bandwidth, high latency, intermittent) communications.
The challenge will ultimately consist of three key events: a Virtual Disaster Challenge and two Disaster Response Challenges. From the BAA:
Robots will compete with each other performing disaster response operations in representative scenarios that will likely include the following sequence of events:

Drive a utility vehicle at the site.
Travel dismounted across rubble.
Remove debris blocking an entryway.
Open a door and enter a building.
Climb an industrial ladder and traverse an industrial walkway.
Use a tool to break through a concrete panel.
Locate and close a valve near a leaking pipe.
Replace a component such as a cooling pump.

These are representative tasks and will likely be updated based on detailed future planning that will take into account safety, cost, performance, operational capabilities and needs.
Candidate scoring criteria will include successful event completion, completion time, data rate, and energy consumption.
In addition to the $2 million prize to the winning team, DARPA announced up to $32 million in additional funding. Teams will be divided into four separate tracks, and the competition will proceed in two stages. Funding opportunities are available for several of the tracks and stages. For example, up to five Track A teams — focused on software and hardware — will receive up to $3 million each, and the first 9 track B teams — focused on software only — will receive up to $375,000 per team in pursuit of the first physical disaster challenge. Up to 8 of the top-performing teams from the first challenge will receive up to $1 million.
In making the announcement, DARPA Program Manager Gill Pratt said:
"The work of the global robotics community brought us to this point — robots do save lives, do increase efficiencies and do lead us to consider new capabilities. What we need to do now is move beyond the state of the art. This challenge is going to test supervised autonomy in perception and decision-making, mounted and dismounted mobility, dexterity, strength and endurance in an environment designed for human use but degraded due to a disaster. Adaptability is also essential because we don't know where the next disaster will strike. The key to successfully completing this challenge requires adaptable robots with the ability to use available human tools, from hand tools to vehicles."
Added DARPA Acting Director Kaigham "Ken" J. Gabriel:
"Robots undoubtedly capture the imagination, but that alone does not justify an investment in robotics. For robots to be useful to DoD they need to offer gains in either physical protection or productivity. The most successful and useful robots would do both via natural interaction with humans in shared environments."
To learn more, check out the DARPA press release and official BAA.
(Contributed by Erwin Gianchandani, CCC Director)