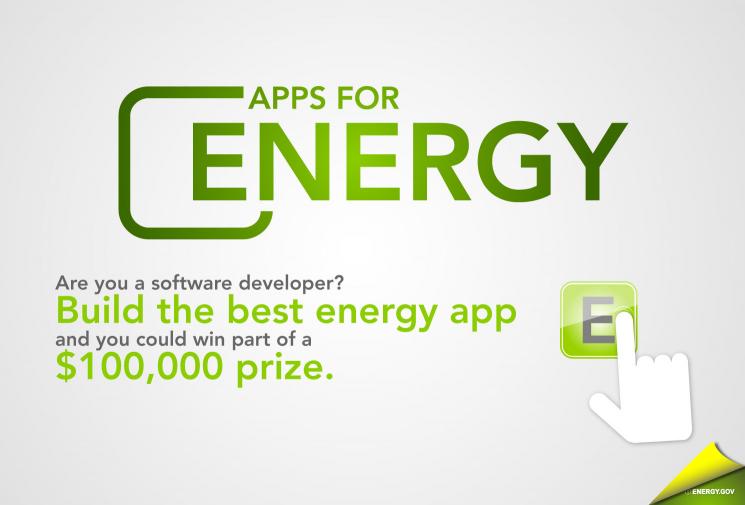 Later today, the Department of Energy (DoE) — together with Pacific Gas & Electric (PG&E), Itron, and Gridwise Alliance — will launch the Apps for Energy competition, "challenging developers to use the Green Button data access program to bring residential and commercial utility data to life." Through the competition, DoE will offer $100,000 in cash prizes to the software developers and designers who submit the best apps, as judged by a panel of government officials, energy industry leaders, and information technology experts (more after the jump).
Apps for Energy leverages Green Button, an initiative that gives access to energy usage data in a streamlined and easy-to-understand format (learn more about the Green Button open standard here). In addition to leveraging Green Button, app developers are encouraged to combine data from a variety of sources to present a complete picture of the customer's energy usage.

The competition is all about creating tools and products that help consumers get the most out of their Green Button data — from apps that track personal energy savings goals to software that helps businesses optimize building energy usage. In addition, the 27 million households that will have access to Green Button data by the end of the year represent an untapped market that can serve as a catalyst for an active, energy focused developer community.
Here's how the competition will work:
Members of the public are invited to submit their ideas for apps to apps@hq.doe.gov. The best app ideas will be featured on Energy.gov and used to inspire developers who are participating in the competition…

[Later today] the Department will release the official rules and begin accepting submissions. Submissions can be any kind of software application, including apps for the web, personal computers, mobile devices, or any software broadly available to the public.

May 15 is the last day to submit an app design. Following the close of submissions, an internal review and public vote will take place.

Winners will be announced in late May and will receive cash prizes that in total equate to $100,000…
To learn more, check out the Apps for Energy website, the DoE press release announcing Thursday's launch, and a White House blog post summarizing the Green Button data access program.
(Contributed by Erwin Gianchandani, CCC Director)