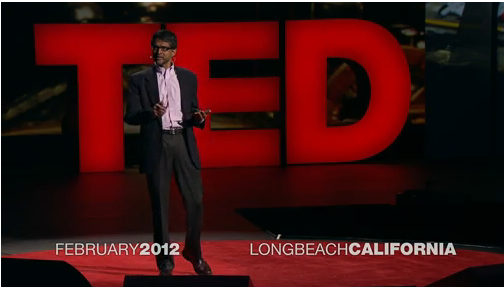 Vijay Kumar, Professor of Mechanical Engineering & Applied Mechanics as well as Computer & Information Science at the University of Pennsylvania, delivered a fascinating talk at last month's 2012 TED Conference in Long Beach, CA, summarizing recent advances in his General Robotics, Automation, Sensing and Perception (GRASP) Lab. Kumar described how his lab is blending computer science and mechanical engineering to create flying quadrotor robots, which "move together in eerie formation, tightening themselves into perfect battalions, even filling in the gap when one of their own drops out."
According to Kumar:
[Agile aerial] robots like this have many applications. You can send them inside buildings as first responders to look for intruders, maybe look for biochemical leaks … [or they] can be used for transporting cargo.
Check out the video — just a few minutes long — following the link…
…and stay tuned for more clips from TED 2012 in the coming days.
(Contributed by Erwin Gianchandani, CCC Director)