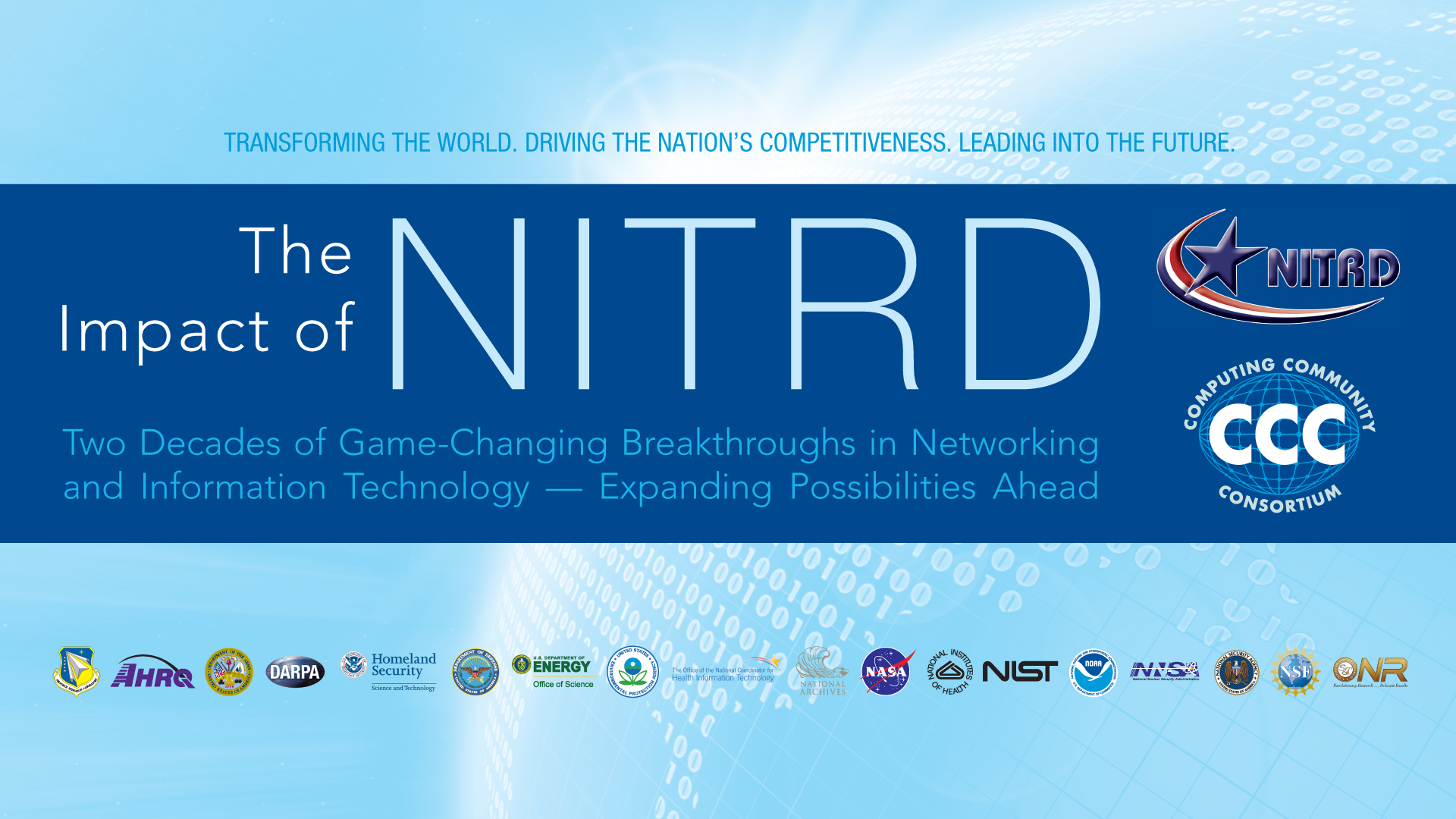 Beginning at 8:15am EST today, we will be streaming live via the web an all-day symposium — titled The Impact of NITRD: Two Decades of Game-Changing Breakthroughs in Networking and Information Technology — marking two decades of the Federal Networking and Information Technology Research and Development (NITRD) Program. Watch it live following the link!
A full agenda for the symposium, along with speakers' bios, appears here.
Some background:
The symposium, organized by the Computing Community Consortium (CCC) in partnership with the National Coordination Office (NCO) for NITRD, is behind held at the Newseum in Washington, DC. It seeks to explore how we are "transforming the world, driving the nation's competitiveness, and leading into the future." In particular, the program is "semi-technical," describing accomplishments and prospects in areas such as information technology and the lives of citizens, building blocks of information technology, information technology interfacing to the physical world, information technology and the advancement of science, and the world of massive data — in a way that is accessible to a broad audience. Many luminaries from our community will deliver short talks. A key theme throughout the program will be the essential role of this 20-year multi-agency research investment in driving our nation's competitiveness and shaping the world in which we live.
Required by the High-Performance Computing Act of 1991, the Next Generation Internet Research Act of 1998, and the America COMPETES Act of 2007, the NITRD Program provides a framework and mechanisms for coordination about 15 Federal agencies that support networking and information technology research and development. Under this umbrella, the Agency for Healthcare Research and Quality (AHRQ), Defense Advanced Research Projects Agency (DARPA), Department of Homeland Security (DHS), Department of Defense (DoD) Office of the Secretary of Defense (OSD) and DoD service research organizations (Air Force, Army, and Navy), Department of Energy (DoE) National Nuclear Security Administration (NNSA), DoE Office of Science (SC), Environmental Protection Agency (EPA), Department of Health and Human Services (HHS) Office of the National Coordinator for Health Information Technology (ONC), National Archives and Records Administration (NARA), National Aeronautics and Space Administration (NASA), National Institutes of Health (NIH), National Institute of Standards and Technology (NIST), National Oceanic and Atmospheric Administration (NOAA), National Security Agency (NSA), and National Science Foundation (NSF) have sponsored the fundamental networking and information technology research that has changed the world over the last 20 years.
For more information, check out the NSF media advisory.
(Contributed by Erwin Gianchandani, CCC Director)