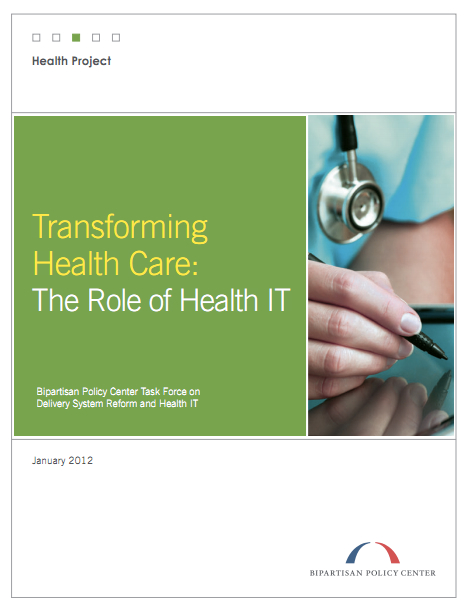 The Bipartisan Policy Center released a report last Friday — Transforming Health Care: The Role of Health IT — emphasizing the critically important role that health information technology plays "in supporting new models of care and payment designed to achieve health care's triple aim" of improving health, improving the experience of care for patients and families, and reducing the cost of care. In the report — whose contributors include leading health care experts from around the country — the Bipartisan Policy Center concludes, "despite the introduction of IT to nearly every other aspect of modern life, the U.S. health care system remains largely paper-based."
The report identifies six common attributes regarding health IT: an organization-wide focus on the needs of the patient; strong organizational and clinical leadership; access to information to support efficient, coordinated care; timely access to care; emphasis on prevention, wellness, and healthy behaviors; and accountability, alignment of incentives, and payment reform.
And it further highlights six important challenges — "gaps in and barriers to achieving health IT capabilities" — that must be overcome in order to support these common attributes. Among them, a lack of health information exchange (after the jump):
While the exchange of information across the multiple settings where care and services are delivered is a central and necessary component of coordinated, accountable and patient-centered models of care, the level of health information exchange in the U.S. is extremely low.
A limited level of consumer engagement to using electronic tools:
Health IT plays a critical role in supporting patient-centered care, yet use of electronic tools to coordinate care, drive provider-patient communication, and empower patients to manage their health and health care is not widespread.
And privacy and security concerns:
Consumers expect that their health information will be kept private and secure. Solidifying public trust in health IT and electronic health information exchange initiatives will require assurance about the processes used to protect the privacy and security of health information.
These challenges lead directly to the report's key recommendations, which include:
Accelerating health information exchange efforts, in part through agreement and accelerated execution of "a common set of principles, policies, and technical methods for the exchange of standards-based, discrete data to support coordinated, accountable, patient-centered care."
Expanding "consumer awareness of the benefits of electronic tools and the steps that consumers can take to protect their privacy in online communications." This means helping "providers use online and electronic tools to support consumer access to their health information, improve communication and coordination between patients and their care teams, and support self-care." It also requires developing and deploying "tools that support the easy import and export of health information into and from consumer-facing applications."
And developing clear guidance that addresses "access, use, and disclosure of health information for treatment and public and population health purposes," including a consistent approach across multiple agencies.
Though the report does not focus on the research questions — indeed, it fails to note the complex sociotechnical challenge constituted by privacy and security — it does allude to the importance of leveraging contributions enabled through Federally-funded research programs — and to seeing the results translated into care settings. For instance, "beginning in 2012, [the U.S. Department of Health and Human Services (HHS)] should make available to the public best practices, tools and lessons that are emerging from federally-funded programs, including the … Strategic Health IT Advanced Research Project (SHARP)" program implemented by the Office of the National Coordinator for Health Information Technology.
And it emphasizes the very significant role of information technology in the care setting, using verbiage consistent with a recent CCC roadmap:
Health IT plays a critical role in supporting patient-centered care. Common attributes of patient-centered care include "whole person" care, strong coordination and communication, patient support and empowerment, and ready access.

High-performing organizations are increasingly implementing patient portals, personal health records (PHRs, online health records maintained by patients), health information exchange, and other modes of communication — such as mobile technologies — to improve communication, coordinate care and facilitate shared decision-making with patients. They also offer online, interactive tools that empower patients through education and self-care. Secure methods of electronic communication and e-visits, coupled with online scheduling and reminders, make care more accessible and convenient.

Research shows that many of these functions improve quality, reduce costs or improve patient satisfaction. For example, evidence shows that secure messaging between patients and their providers enhances quality of care and outcomes. Other studies indicate high levels of patient satisfaction with online consumer tools. Patient enrollees in Group Health Cooperative's MyGroupHealth (a patient portal) report high levels of satisfaction with secure messaging, refilling medications and viewing test results.
Also of note:
Both the federal government and the private sector should take steps to enhance the usefulness and usability of consumer-facing health IT, such as:

a. Develop and implement widely available common interfaces to support the easy import and export of health information — including information residing in both provider and health plan systems — into and from consumer-facing applications such as PHRs or mobile
applications.

b. Conduct additional research on consumer perspectives related to both the usefulness and usability of consumer-facing online and electronic tools.

c. Launch an awards program highlighting health care leaders that have demonstrated positive outcomes in quality, safety, cost-effectiveness and patient satisfaction through engagement of consumers using online and electronic tools.

d. Develop and implement mechanisms to enable the sharing of early experiences, lessons learned and best practices among early implementers to address concerns and support more successful implementations in the field.

e. Develop and implement strategies to reach and engage minority and lower income populations in the use of online and electronic tools to support health and health care. These strategies should take into account limitations in Internet access or computer literacy, and could include use of mobile and smart phones to support text message reminders and educational information. Subsidization of such technologies to support widespread adoption should be explored.
To learn more, check out the entire report from the Bipartisan Policy Center. And read about the fundamental research opportunities at the intersection of computing and health care by reviewing the outputs of the CCC's October 2009 Discovery and Innovation in Health IT Workshop.
(Contributed by Erwin Gianchandani, CCC Director)