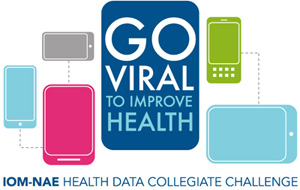 The Institute of Medicine (IOM) and National Academy of Engineering (NAE) have partnered to launch the "Go Viral to Improve Health" Health Data Collegiate Challenge, designed to spur undergraduate and graduate students to create health-related apps. The contest is aimed at students pursuing degrees in health, engineering, and computer science. And the prize for the winning team is $10,000.
According to the Challenge website (after the jump):
Using social networking, mobile apps, and other new technologies, how can the power of health data be unleashed to increase awareness of health problems and inspire positive action at the community level? The IOM and NAE challenge college and university students to use health data to develop effective, innovative apps that take on the nation's pressing health issues.

The Challenge

With an abundance of U.S. Department of Health and Human Services (HHS) data and other health data available as part of the Health Data Initiative (HDI), students have an unprecedented opportunity to create interactive apps and other tools that engage and empower people in ways that lead to better health. Working in interdisciplinary teams that meld technological skills with health knowledge, the IOM and NAE believe that college students can generate exciting and powerful new products — the next "viral" apps — to improve health for communities and individuals.

To "Go Viral To Improve Health":

Identify a health problem in your college's surrounding community
Assemble an interdisciplinary student team
Develop an app using data from the HHS Health Indicators Warehouse and other data sources
Demonstrate how your solution will engage people in your community to promote action that will improve their health
Submissions to the Challenge will reviewed by a panel of judges, including Deborah Estrin, Professor of Computer Science, University of California, Los Angeles; Reena Singhal Lee, Senior Technical Manager, Google; Richard Merkin, President and CEO, Heritage Provider Network; Todd Park, Chief Technology Officer, U.S. Department of Health and Human Services; and Barbara Rimer, Dean and Alumni Distinguished Professor, Gillings School of Global Public Health, University of North Carolina, Chapel Hill.
And review criteria will be based on the following factors:
First-, second-, and third-placing teams will receive $10,000, $5,000, and $3,000 prizes, respectively, plus recognition at the The Health Datapalooza to be held on June 5-6, 2012, in Washington, DC. The first-place prize is sponsored by the Heritage Provider Network.
To learn more and to enter the challenge, check out the "Go Viral to Improve Health" website. And be sure to review winners from last year's contest here for ideas.
(Contributed by Erwin Gianchandani, CCC Director)