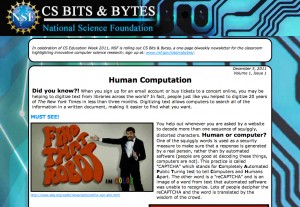 In celebration of CSEdWeek — this week! — the National Science Foundation's (NSF) Directorate for Computer and Information Science and Engineering (CISE) rolled out CS Bits & Bytes this morning, a one-page biweekly newsletter highlighting innovative computer science research.
The NSF CS Bits & Bytes series will emphasize how computer science permeates and improves our lives and supports progress in many other disciplines. CS Bits & Bytes issues will also include profiles of the individuals who do this exciting work. NSF hopes educators and parents will use CS Bits & Bytes to inspire students to engage in the multi-faceted world of computer science, to become not just users but creators of technology, and to develop the skills to bend computation to their own ends, no matter their interests.
The first newsletter talks about the benefits of Human Computation and tells the story of Luis von Ahn, the A. Nico Habermann Associate Professor of Computer Science at Carnegie Mellon University. Here's an excerpt from the first issue:
Did you know?! When you sign up for an email account or buy tickets to a concert online, you may be helping to digitize books from libraries across the world? In fact, people just like you helped to digitize 20 years of The New York Times in less than three months.

You help out whenever you are asked by a website to decode more than one sequence of squiggly, distorted characters.
To see the entire newsletter, and to register to receive this biweekly newsletter designed for teachers and students, check out the CS Bits & Bytes website.
(Contributed by Gera Jochum, Communications Specialist, NSF/CISE)