(This post has been updated; please scroll down for the latest.)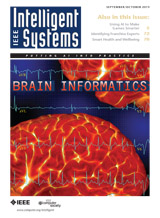 Following on the heels of yesterday's announcement of the National Science Foundation's (NSF) new, interdisciplinary Smart Health and Wellbeing (SHB) program, we thought this would be an appropriate time to highlight a series of articles about health IT R&D in the September/October 2011 issue of IEEE Intelligent Systems. From the abstract:
In light of such overwhelming interest from governments and academia in adopting and advancing IT for effective healthcare, there are great opportunities for researchers and practitioners alike to invest efforts in conducting innovative and high-impact healthcare IT research. This IEEE Intelligent Systems Trends and Controversies (T&C) Department hopes to raise awareness and highlight selected recent research that helps move us toward such goals. This department includes three articles on Smart Health and Wellbeing from distinguished experts in computer science, information systems, and medicine. Each article presents unique perspectives, advanced computational methods, and selected results and examples.
In one of the articles — titled "Can Computer Science Save Healthcare?" — Howard Wactlar, Misha Pavel, and Will Barkis describe ways in which computing research can help resolve aspects of America's healthcare crisis. In particular, they propose four principal IT research thrusts:
creating an interoperable, digital infrastructure of universal health data and knowledge;
utilizing diverse data to provide automated and augmented insight, discovery, and evidence-based health and wellness decision support;
a cyber-based empowering of patients and healthy individuals to play a substantial role in their own health and treatment; and
monitoring and assisting individuals with intelligent systems (including sensors, devices, and robotics) to maintain function and independence (the figure illustrates a data transformation life cycle for data cumulatively captured by wearable body sensors).

—© 2011 IEEE Intelligent Systems
To learn more, check out the article by Wactlar et. al. — and the rest of the series — in the September/October 2011 issue of IEEE Intelligent Systems (subscription required!).
***
Updated Monday, Nov. 14, at 3:44pm EST: The article linked above is now available free of charge. Thanks to our friends at IEEE Intelligent Systems for making this possible.
(Contributed by Erwin Gianchandani, CCC Director)