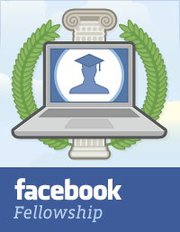 Facebook has announced a new installment of its Facebook Fellowship Program — providing full-time Ph.D. students involved in on-going research in computer science (and allied fields) full tuition, a $30,000 stipend, $5,000 for travel, and $2,500 for a personal computer in an effort to facilitate their studies.
Each applicant must provide a one- to two-page research summary that clearly specifies his or her area of focus and the applicability of his or her research to Facebook; a CV (with e-mail, phone, and mailing address), including a list of applicable coursework; a minimum of two letters of recommendation (one must be from the student's faculty advisor); and the name and website, including short bio, of the faculty advisor.
From Facebook's announcement:
Eligibility criteria:

Full-time Ph.D. students in topical areas represented by these fellowships who are currently involved in on-going research.
Students must be studying Computer Science, Computer Engineering, Electrical Engineering, System Architecture, or a related area.
Students must be enrolled during the academic year that the Fellowship is awarded.
Students must be nominated by a faculty member.

We are interested in a wide range of academic topics, including the following topical areas:

Computational Advertising
Computer Vision
Compiler Technology
Computer Architecture
Computer Networking
Computer Security
Databases
Data Mining
Distributed Computing
Fault Tolerance
Human-Computer Interaction
Internet Economics
Machine Learning
Machine Translation
Natural Language Processing
Search
Smart Datacenters
Social Computing
Applications — which must be submitted through a valid Facebook account — are due by Dec. 16. Candidates will be notified of decisions by Feb. 1, 2012.
To learn more, check out the official website of the Facebook Fellowship Program. And check out last year's winners — including the recipient of a CCC Challenges & Visions Track Best Paper Award — here.
(Contributed by Erwin Gianchandani, CCC Director)