(This entry has been updated. Please scroll down for the latest.)
Earlier this afternoon, the National Science Foundation's (NSF) Directorate for Computer and Information Science and Engineering (CISE) held the first of two webinars to provide an overview of the various Science, Engineering, and Education for Sustainability (SEES) solicitations in FY 2012 — with a particular focus on the details of interest to the CISE research community. Joined by CISE Deputy Assistant Director Cynthia Dion-Schwarz and Computing and Communications Foundations (CCF) Division Director Susanne Hambrusch, Program Director Krishna Kant noted that "sustainability questions present new and exciting opportunities for CISE research that can at the same time have significant societal impact."
Kant and fellow Program Director Petros Drineas stepped through the 7 solicitations the Foundation has released in recent weeks — at least the first five of which are likely to be of great interest to the CISE research community:
Check out the slides Kant and Drineas used to elaborate on the goals and sample projects for some of these solicitations after the jump…
For the Sustainability Energy Pathways (SEP):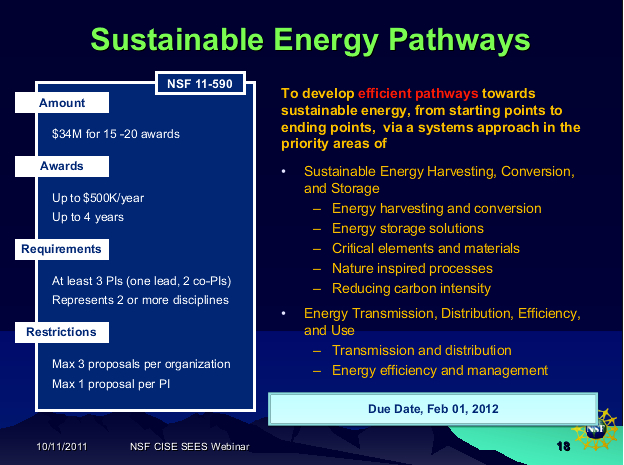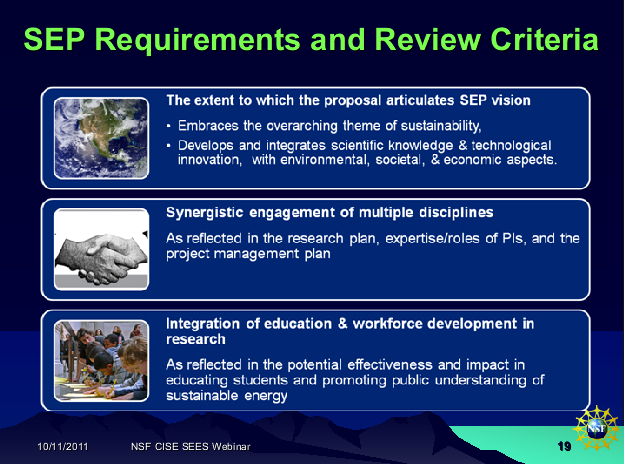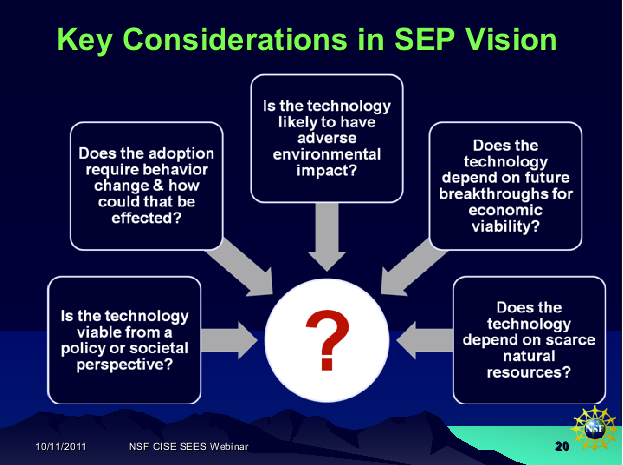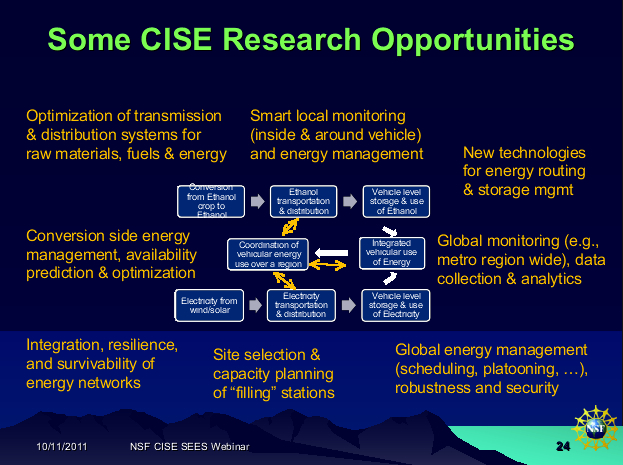 For the Sustainability Research Networks (SRN):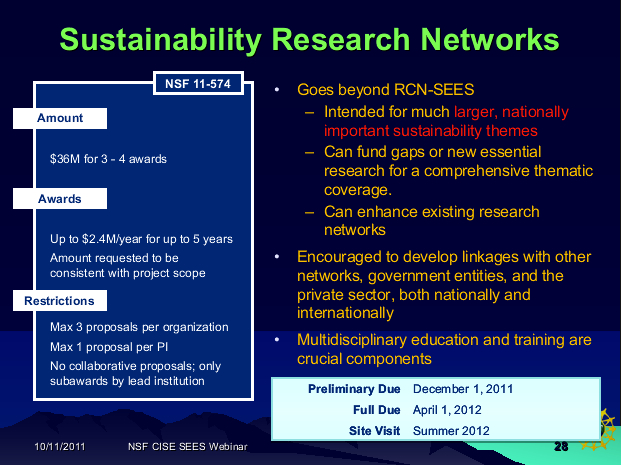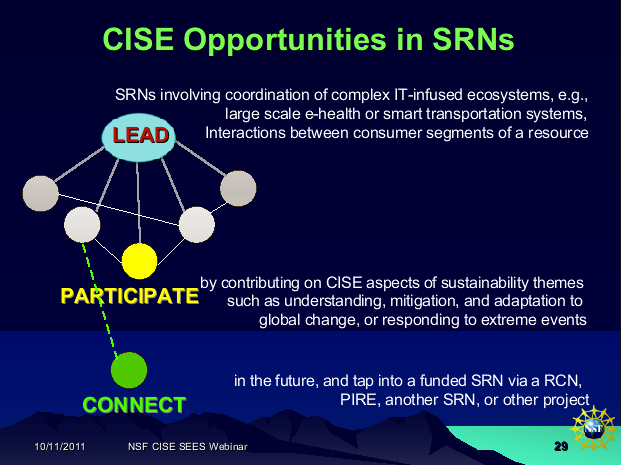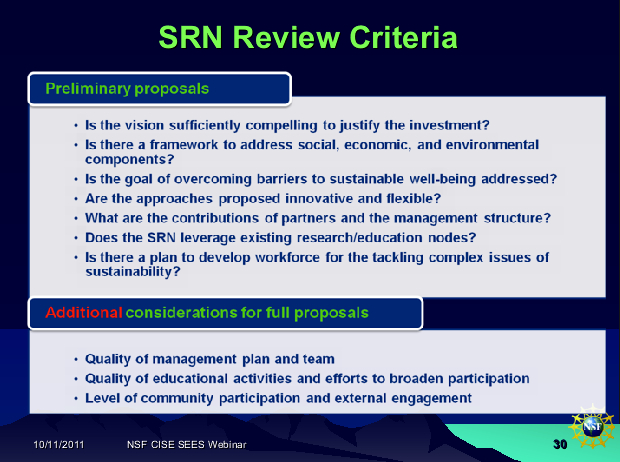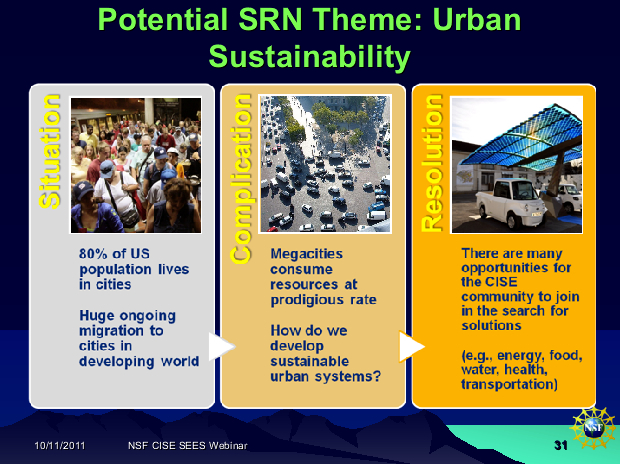 For the Research Coordination Networks (RCN):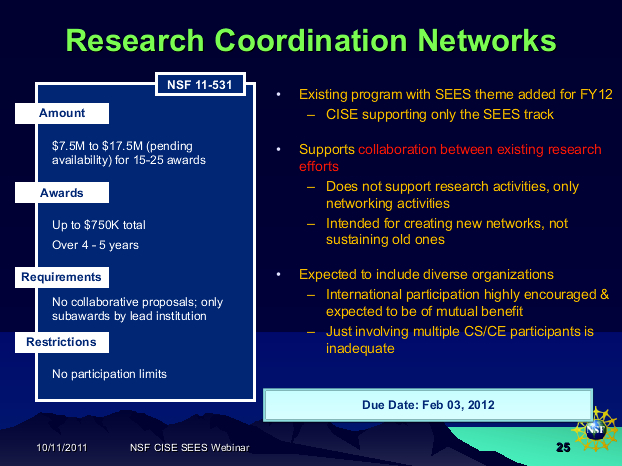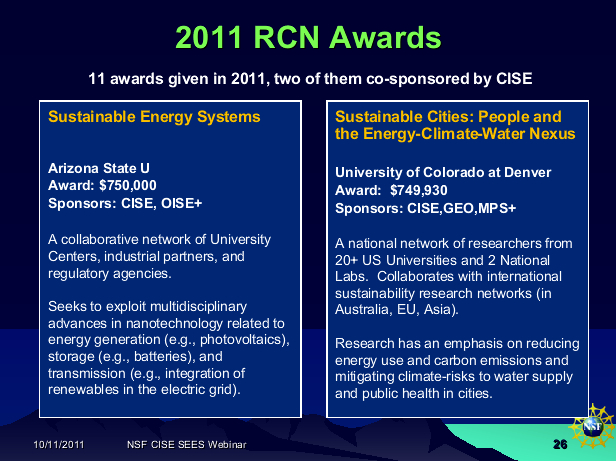 And for the SEES Fellowships: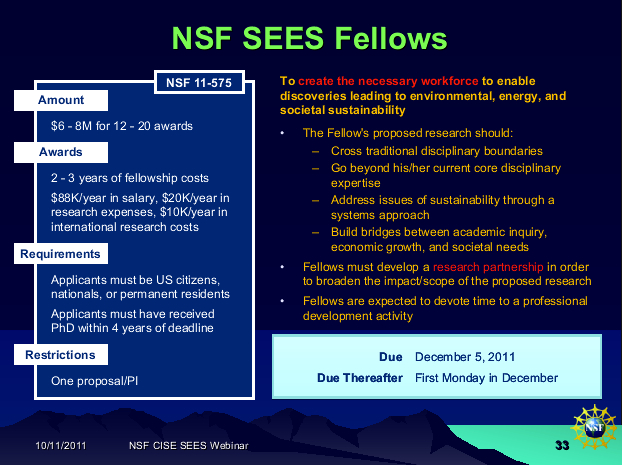 More details about all the solicitations are available at the links above — and on the SEES website.
Importantly, Kant and Drineas emphasized three core requirements for all proposals responsive to the SEES solicitations:
They must be interdisciplinary by design — proposals fundable by core program of directorates not suitable; integration of multi-disciplinary parts is important;
They must promote interdisciplinary education & training — integrating multidisciplinary education into core curriculum, enhancing cross disciplinary interaction, creating infrastructure for multidisciplinary research, and enhancing public's understanding of sustainable energy future; and
They must go beyond just creating technologies, i.e., they need to carefully consider social, economic, and environmental aspects, though they do not need to provide in-depth treatment depending on the scope of a given proposal.
For more about the CISE-themed description of SEES, check out the CISE website — all the slides and a video of the webinar are expected to be posted there soon — as well as write-up by Kant that we've previously posted in this space. And to learn more about the fundamental research challenges in sustainability, review the report that resulted from a February 2011 NSF/CCC Workshop on the Role of Information Sciences and Engineering in Sustainability (RISES) — one of four recent workshops Kant noted in his slides — as well as a brochure the CCC has developed on the subject.
NSF's CISE Directorate plans another webinar on Friday for those who could not attend today.
***
Updated Tuesday, Oct. 25, at 3:45pm EDT: The CISE Directorate has now posted the slides used during the two webinars here.
(Contributed by Erwin Gianchandani, CCC Director)