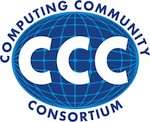 The Computing Community Consortium (CCC) — a standing committee of CRA that seeks to catalyze and empower the computing research community to pursue audacious, high-impact research — has issued a call for proposals for workshop programs that will define visions and agendas for exciting frontiers of computing research.
From the solicitation:
Successful [workshop] programs will ultimately articulate and mobilize community support for a research vision(s), with the intention of generating support from funding agencies. Proposals are encouraged across the full spectrum of work in the creation and application of information technologies to important challenges, from the theoretical to the practical. Awards can range from $10,000 to $200,000. (Proposers are encouraged to ask for an amount commensurate with activities outlined in their proposals — and to not necessarily seek the maximum allowable budget amount.) Proposals are due by e-mail to cccrfp@cra.org by 5pm EDT on Friday, October 14, 2011, and they will be reviewed promptly.
Examples of past projects — called "visioning activities" — funded by this CCC program span a broad range of computer and information science and engineering areas such as theoretical computer science, computer architecture, learning technology, health IT, and sustainability and IT. (See the full set of activities the CCC has supported to date here.)

Several of these projects have had significant impact on the national research agenda. For example, a CCC-funded robotics visioning activity resulted in a definitive report titled "A Roadmap for U.S. Robotics: From Internet to Robotics," developed by more than 100 robotics experts from academia and industry. That report eventually served as the basis for a new, multi-agency, $70 million investment in robotics called the National Robotics Initiative (NRI) announced earlier this year.
If you have ideas or topics topic for envisioning, please consider submitting a proposal by the Oct. 14 deadline. Proposals should be no more than six pages in length. They should describe the existing or potential vision(s) and proposed activities in detail, including how the larger community will be engaged.
For more information, see the complete call for proposals. And if you have questions, please e-mail us.
We look forward to receiving your ideas for the future of our field!
(Contributed by Erwin Gianchandani, CCC Director; Lance Fortnow, CCC Visioning Subcommittee Chair; and Ed Lazowska, CCC Council Chair)