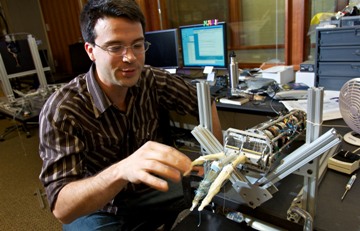 Yesterday, the National Science Foundation (NSF) announced a new five-year, $18.5 million Engineering Research Center (ERC) that will pursue interdisciplinary research and education in areas of health and robotics:
The NSF ERC for Sensorimotor Neural Engineering (ERC/SNE) will create devices to restore or augment the body's capabilities for sensation and movement. The foundation for the new devices will be new mathematical and structural understanding of the nervous system. Center researchers will combine this new understanding with improved communication and interface design and with advanced control and adaptation technologies.

The Center aims to create devices that function and adapt seamlessly with the body, enabling dynamic and highly complex interactions with human environments. Ultimately, the resulting intelligent systems, neural implants, and robotics will be engineered to meet individual human needs for sensation and movement.

The NSF ERC/SNE will be based at the University of Washington, in partnership with the Massachusetts Institute of Technology and San Diego State University. Researchers at the University of British Columbia and the University of Tokyo will contribute additional expertise and international perspectives.

The involvement of 23 industry partners — including multinational corporations, healthcare practitioners, and start-up firms — will spur innovation and provide university students with first-hand experience in entrepreneurship. The NSF ERC/SNE will also collaborate with complementary research centers and organizations specializing in technology transfer to stimulate innovation based on its research.
The new ERC will be led by Yoky Matsuoka, a Professor of Computer Science and Engineering at the University of Washington.
To learn more about it, read the official NSF press release.
(Contributed by Erwin Gianchandani, CCC Director)