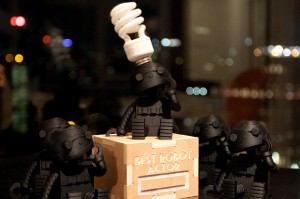 We've all heard about Cannes.  And Sundance.  And perhaps Slamdance.  But have you heard about the Robot Film Festival?
This past weekend, a huge crowd of roboticists, artists, and filmakers converged on Manhattan for the world's first-ever Robot Film Festival. Dubbed a two-day celebration of robots on film, the event sought "to inject a sense of playfulness into traditional science and engineering and explore frontiers before technically feasible."
Over 50 short films were screened, and the official awards ceremony saw 3D-printed "Botsker" statuettes presented to "Best Robot Actor," "Most Uncanny," and the like in a unique black-tie, red-carpet gala.
See some of the short films after the jump…

Robot Film Festival Welcome by Josh Ventura

Interrogation Robot by Mike Winter

The Machine by Rob Shaw, Bent Image Lab [Botsker Award for Best Picture]

Absolut Quartet by Jeff Lieberman, Dan Paluska, Noah David Smith, Willie Mack [Botsker Award for Best Robot Actor]

Data the robot comedian and its creator Heather Knight

Operation da Vinci by Kelleher Guerin, Carol Reiley, Tom Tantillo [Botsker Award for Audience Award]

Chorebot by Greg Omelchuck [Botsker Award for Ethics and Impact]

Saturn by 1stAveMachine [Botsker Award for Most Uncanny]

Out In The Street by Mark Simpson, Nick Paroz, Sixty40, Superfad [Botsker Award for Best Story]

Moonrush by Jonathan Minard, Michael Pisano, Ben Saks, Phil Kibbe [Botsker Award for Visionary Future]

Waiting for Name Assignment by Alvaro Galvan, Carmen Simón Rubio [Botsker Award for Best Human as Robot]

Bio-inspired Flying Robots by Sabine Hauert, EPFL [Botsker Award for Scientifically Hardcore]
…and learn more about the event from our friends at IEEE Spectrum who were in attendance at the festival.
(Contributed by Erwin Gianchandani, CCC Director)