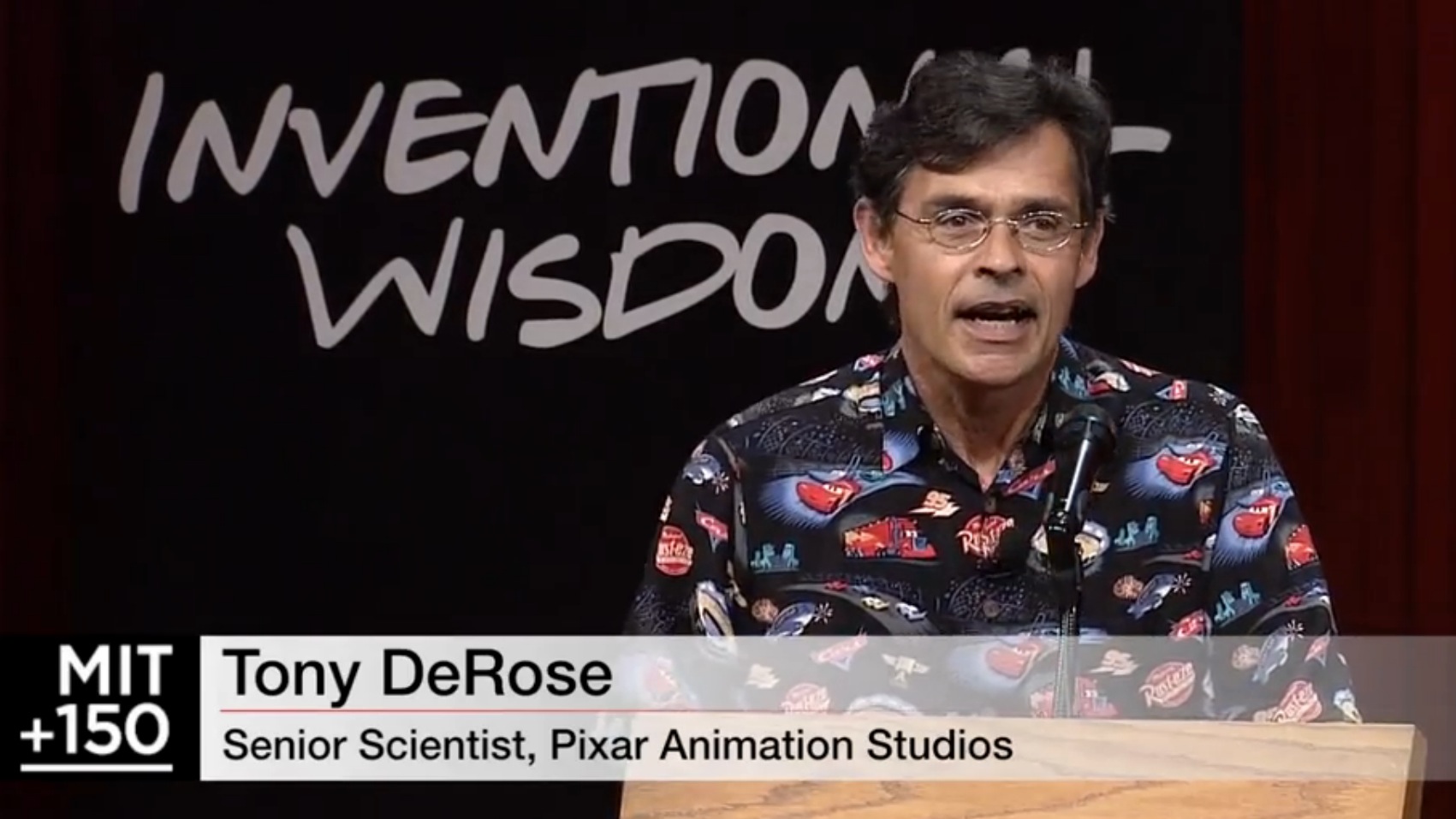 Here's another great talk — by Tony DeRose, Senior Scientist and head of the Research Group at Pixar Animation Studios — at the recent "Computation and the Transformation of Practically Everything" symposium commemorating MIT's 150th anniversary celebration.
DeRose stepped through the 80-year history of computer animation, with examples from Beauty and the Beast, Monsters, Inc., Finding Nemo, Ratatouille, etc.
Animation started about 80 years ago… with the Walt Disney Studio, where they really invented what later became an art form. Steamboat Willie was one of the first milestones, and, in this era, the only real technology was pencil, paper, and film. So, the artist would draw a complete drawing, including outlines and shading, for each of 24 frames, and those 24 frames would flash by in a second, and they would do that large number of drawings to make their films.

The technology progressed, primarily at the Disney Studio, but it wasn't computational in nature — it  was mostly mechanical and optical — until in 1989, when The Little Mermaid was released. And this was really a pivotal film in that just about the entire film was made with the traditional means but the last shot of the movie was computationally accelerated…

So the shot itself might not be that remarkable just looking at it, but the remarkable thing about it is, it was the first deployment of a system called CAPS — which stands for Computer Animation Painting System. And CAPS was developed by — it was a collaborative team — some at Disney and some at this little company called Pixar at the time, leading up to 1989. And although they were able to get this one shot done, it was pretty brutal. There were lots of bugs, the artists couldn't figure out how to use it very well…
And he described the current pipeline for developing an animation film — story, art, and digital production, such as geometric models (character meshes, rigging), shading, lighting and rendering — with a focus on the computational challenges presenting at each step.
There's been a lot of talk about how computation has dramatically impacted various disciplines, and it's certainly dramatically impacted Pixar. In fact, the first deployment — the CAPS system — was kind of an acceleration of what was a manual system before that. By the time we get to three-dimensional computer graphics, that's not even possible by hand. Artists simply cannot get the kind of consistency and visual richness; you have to have computation.
Check out DeRose's entire talk after the jump…
…starting at 26:39…
More videos of the many excellent talks from the MIT150 Symposium are available right here.
(Contributed by Erwin Gianchandani, CCC Director)