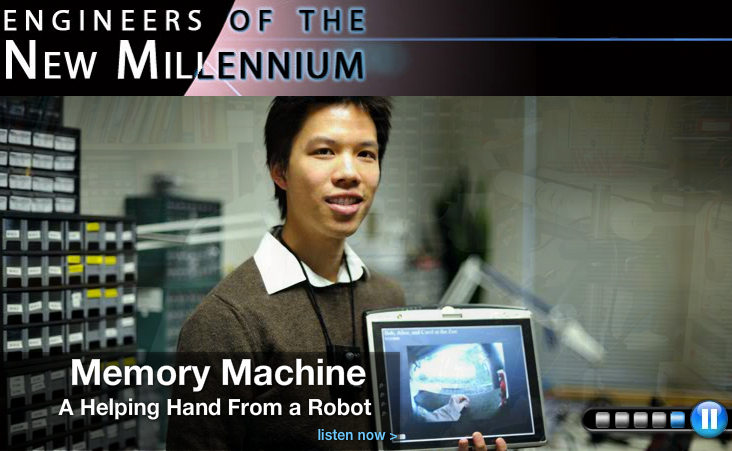 The National Science Foundation and IEEE Spectrum Radio have partnered to produce a terrific series of reports describing the frontiers of engineering research:
These researchers are investigating new phenomena, devising new capabilities and designing new technologies. Innovations in engineering can help us overcome challenges in sustainability, launch whole industries and help people enjoy happier and healthier lives. Through their dedication to creating and discovering cutting-edge solutions, engineers are at the forefront of shaping our new millennium.
What's interesting for us is that there are lots of CISE-related research challenges amidst the featured topics — robotics, sustainability, and energy:
Robots are emerging from industrial settings to help humans perform surgery, catch criminals and even fend off the effects of aging. With new capacities for mobility, sensing and intelligence, robots are augmenting human capabilities in completely new ways. Some researchers are pursuing a vision of robots so smart and sophisticated that they can change their shape and abilities depending on the need at hand.
…Engineers are exploring how our limited supplies of water can be used — and reused — more efficiently. They are creating new tools for sensing, purifying and modeling water. And they are reshaping water systems for our homes and communities, so that clean water isn't wasted…
…much of our electricity will come through a reinvigorated grid, pumped up with intelligence and flexibility…
Here's one of the six-minute segments (after the jump), detailing the software and hardware advances for a future "energy Internet" — work that's taking place at North Carolina State University's FREEDM Systems Center, a NSF-funded Engineering Research Center:
We'll highlight more of these stories in this space in the coming weeks. In the meantime, you can view the whole series — including companion multimedia webpages — here.
(Contributed by Erwin Gianchandani, CCC Director)