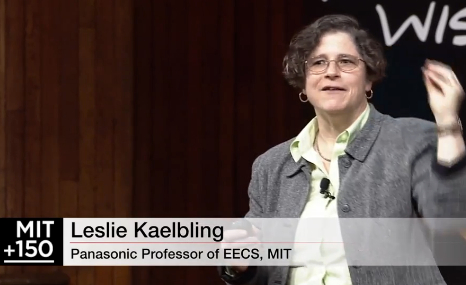 Fresh on the heels of Friday's big announcement about a new National Robotics Initiative, I thought now would be a great time to feature a recent talk by MIT CSAIL Professor Leslie Pack Kaelbling. Speaking at the "Computation and the Transformation of Practically Everything" symposium commemorating MIT's 150th anniversary celebration back in April, Kaelbling described the emerging research frontiers at the intersection of robotics and AI:
It used to be that the dream of what robots could do for us was big and romantic and exciting… all these robots from the movies. If you look at the commercial reality of robots… they're sort of robot automata in factories that will weld whatever goes by or, say, simple vacuums. But the research frontier is getting to be, actually, right at this moment, pretty exciting [with] autonomous vehicles, soccer players, and so on. So what I want to think about is how to push that research frontier in robots to making them really flexible and really intelligent. It used to be that robotics and AI really worked pretty closely together, and they've come farther apart. So the question is, 'is it time to try again?'.
Check out Kaelbling's 8-minute talk — titled "A Dream of Robots" — below (after the jump)…
And while we're on the subject, NSF has a great news story out today about a team of University of Delaware researchers who are developing a robot language to enable robots to operate in cooperation with one another in dangerous environments.
By the way, as a reminder, you can find many of the other fabulous talks from the MIT150 Symposium right here. We'll continue to feature them here periodically.
(Contributed by Erwin Gianchandani, CCC Director)